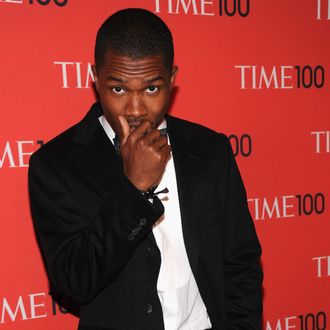 Frank Ocean.
Photo: Jamie McCarthy/Getty Images
Katy Perry hosts the MTV VMAs, Taylor Swift drops her "Look What You Made Me Do" video, and now Frank Ocean is bringing you a new episode of "Blonded Radio": Sunday night is not for relaxing anymore. At 8:40 p.m. EST, the "Nikes" singer launched the unannounced seventh episode of his Beats 1 Radio show on Apple Music to correspond with the premiere of the VMAs. The show informally marks the anniversary of the August 20, 2016, release of his Blonde album.
Much like in previous episodes of "Blonded," Ocean took tonight's show as an opportunity to release some new material. His latest is a song entitled "Provider," which you can hear below. In between a little Sinatra and Hall & Oates, Ocean also pondered his past year. "I can do more. There's more to come," he confirms. You can enjoy his musings, and his musical selection, here, if you're already sort of done with awards shows for the night.