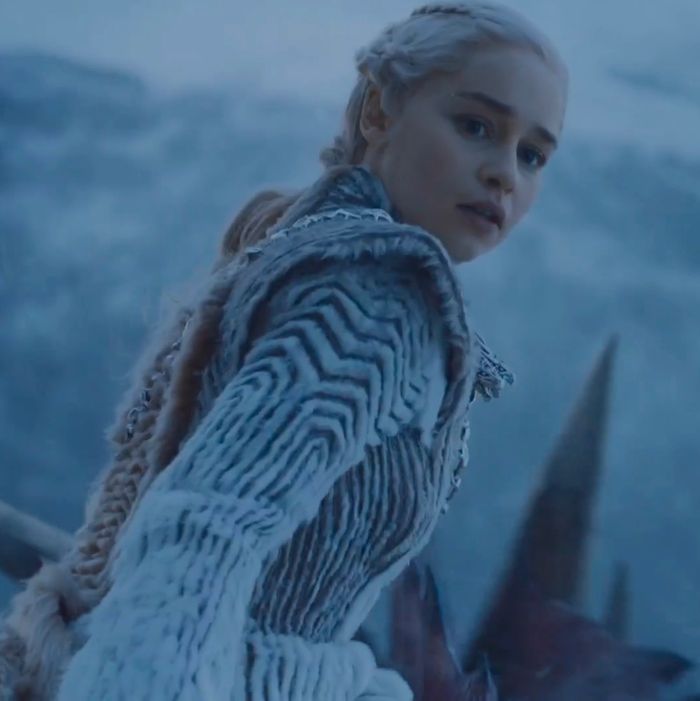 Winter has come to Game of Thrones. It's a time of White Walkers and endless darkness and tragic death. In Sunday's episode, "Beyond the Wall," Daenerys Targaryen comes face-to-face with the Night King's army of the dead, loses one of her dragons, nearly dies herself.
On the bright side, she also wears a truly beautiful piece of outerwear.
We first see Dany's majestic coat as she walks up to the edge of Dragonstone's cliffs, as she prepares to fly north with her dragons. The coat is heavy, and although it moves with the strong wind, it's almost armor-like in its stiffness and structure. It's a silhouette she's worn frequently in the past: high neck, dramatic, broad pointed shoulders that create a strong horizontal line, tightly fitting through the chest and waist, and then a strong outward flare to where it falls mid-calf.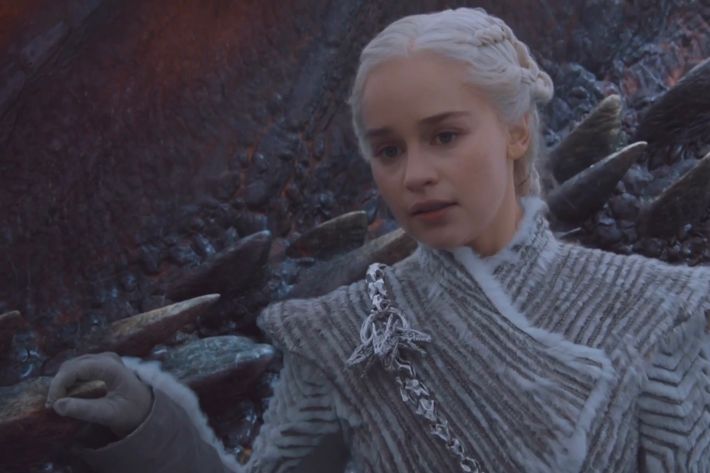 But this is not Desert Dany, or Nautical Dany, or Standing in Front of Table Map Dany. No, this is Snow Dany. And you better believe her coat is fur.
Not just fur, mind you, but fur cut and shaped into repeating, tufted lines running the vertical length of the garment, gathering narrowly along the shoulder and waist and spreading expansively toward the hem. White and dove-gray fur, in lines echoing the coat's asymmetrical pointed lapel and curving suggestively along the upper arms.
From the front, Daenerys's coat is all ice queen. She looks like she's about to offer you a piece of Turkish delight, and you just know you'd be glad to take it. It's nothing like the Stark family's barely tailored fur capes, and it's certainly not Cersei's glittering metallic points; it's painstakingly detailed, soft and sharp all at once. I sincerely doubt Dany got it from Ikea.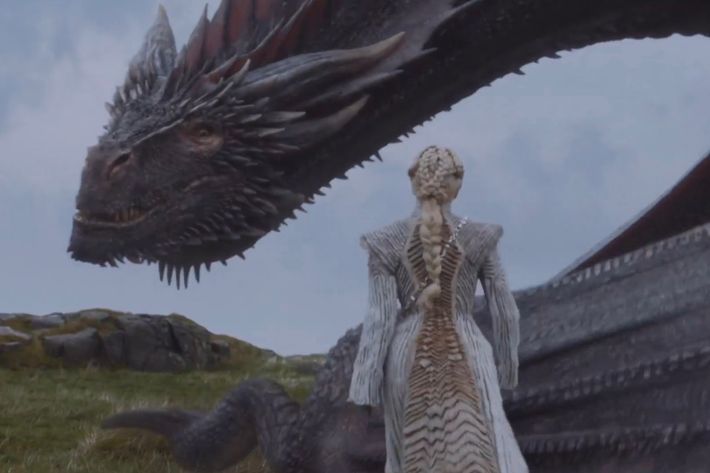 When Dany turns around before flying off, we get to see the back of the coat. It is glorious. For no reason at all other than sheer beauty and Mother-of-Flipping-Dragons flair, there is a swoop of fawn-colored fur in irregular ruffled zigzags beginning at the high neck, extending into pointed angles across the breadth of the shoulder, and then falling down into a train. It's like dragon skin rendered in rippling fur, gorgeous and tactile and utterly unnecessary and damn majestic.
At the end of the episode, Jon Snow tells Daenerys that he'll bend the knee because he's come to appreciate who she really is, and he wants to unite the realm under her rule. I'm sure he believes what he's saying, but I'd also like to suggest an alternate theory: If someone came diving out of the sky on a dragon to save me from a horde of zombies while wearing that coat, I'd swear allegiance in a second.