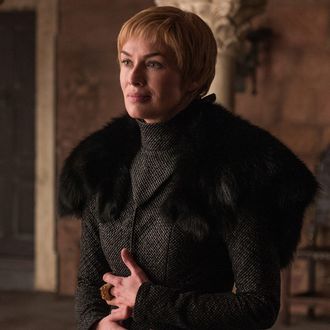 Like zombie Viserion effortlessly destroying the Wall, Game of Thrones continues to smash through ratings records with ease. Even before Sunday's finale gets figured in, HBO calculates that episodes of the show's seventh season are averaging a best-ever 30.6 million viewers across multiple platforms. That's nearly 8 million viewers (and a whopping 35 percent) ahead of the same point last season, when the network estimated the show's pre-finale audience at 23.3 million viewers. After the season-six finale, that number ultimately rose another 11 percent, to 26 million viewers. Assuming the same sort of growth — we'll update this post with same-day numbers for "The Dragon and the Wolf" from Nielsen when they arrive — it seems a safe bet that season seven will end up with an average gross audience north of 33 million viewers.
The overall reach of Thrones is impressive by any measure, but it becomes even more stunning when you look at its growth trajectory. In 2013, season three finished with a so-called "cume" audience of 14.4 million viewers, putting it behind only The Sopranos on the network's most-watched series list. A year later, season four pulled in more than 18.4 million viewers, eclipsing HBO's iconic mob drama. This year's audience of 30.6 million (and counting) means Thrones will have more than doubled its weekly American audience in just four short years. Such growth isn't unprecedented, even if recent TV history: AMC's Breaking Bad had an even more impressive growth curve. But given how Thrones premiered with much more hype and on a much more established network — AMC was mostly known for old movies when Breaking Bad debuted — its ratings surge is flat-out jaw-dropping. (For those of you keeping track at home, HBO's cumulative data includes same-day viewership as measured by Nielsen, DVR replays, additional tune-in via the network's multiple cable channels, cable-on-demand views, and online streams through HBO Go and HBO Now.)
Update: Sunday's finale, as expected, broke another record. Per preliminary Nielsen data, 12.1 million viewers watched the 9 p.m. telecast of Thrones, 13 percent above the show's previous high-water mark of 10.7 million viewers (established a mere two weeks ago). "The Dragon and the Wolf" finished 36 percent above the final episode of season six (8.9 million) and 19 percent ahead of this summer's season premiere (10.1 million). Counting one encore showing and early streaming numbers, HBO says 16.5 million people had watched the finale as of early this morning.