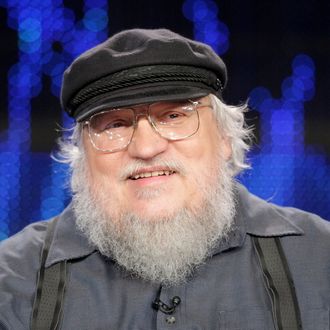 George R.R. Martin.
Photo: Frederick M. Brown/Getty Images
Up until season four's "The Lion and the Rose," George R.R. Martin took a swing at writing a few episodes of Game of Thrones, though he eventually stepped away to focus on maybe finally finishing The Winds of Winter. By now, according to an interview with Metro, Martin's altogether too busy writing and touring to watch the show anymore. In the brief interview, Martin is also quick to point out that "the book series and TV adaptation go their separate ways. On the screen characters are killed right and left. About twenty of them have died already, which are quite alive to me and will appear in a new book." Martin, of course, does not have a clear answer about when the book will come out — currently, the best estimate stands at sometime in 2018. In case anyone ever corners Martin at a party and demands he unpack the latest episode, we suggest he take our approach to faking it: Mumbling, "Yeah, that Jon Snow, he keeps doing stuff!" and when someone complains about the plot confusion, adding, "To be fair, I like the dragons."
Update 8:06 p.m.: Leave it to the creator of Game of Thrones to put fans through a shocking twist and quick reversal. According to Entertainment Weekly, George R.R. Martin does watch the television version of his epic fantasy and he can't remember ever saying otherwise. Martin told EW over email that he had just returned from a convention in Russia and believed that he was either misquoted or something was lost in translation. According to EW, "During his trip abroad he didn't watch any television — so he's behind on Thrones' current seventh season." Nobody tell him about the ice dragon!