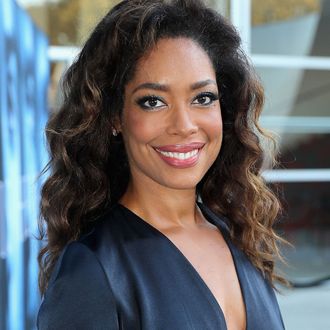 Gina Torres.
Photo: Neilson Barnard/Getty Images
Ever since Gina Torres first sashayed out of that elevator in Suits, the question was obvious: "When is high-powered attorney Jessica Pearson getting her own show?" Six years and so many statement dresses later, we finally have our answer. Although Torres's character departed the show as a regular at the end of season six, the upcoming seventh-season finale of Suits will function as a "backdoor pilot" for the prospective Pearson drama, which will shift from legal dealings to political ones in the city of Chicago. Yahoo reports that the new series will be produced, executive produced, written, and directed by various figures from the Suits team, and creator Aaron Korsh — who will be leading the spinoff charge — gave a bit more detail on what fans can expect:
"Jessica is going to get in a tangle and a tussle with some Chicago politics players. They will be of different levels, from the Mayor on down, and maybe not all will be directly involved in politics. We may have a real estate developer or someone of that type, and some power brokers within the city and maybe further a little down the rung in that world. As we go though the spinoff episode, at the end hopefully you'll have a great idea of what her future is moving forward and who's a potential ally and who's a potential enemy in her world."
Torres, a woman of the people, apparently pitched the show to Korsh during her time away from Suits, and wanted to shift the focus to politics to distinguish it from the original show. And as Korsh told Yahoo, it's a really good thing he didn't get his way with his initial plans for sending Torres off the original series. "We creatively wanted to create a big bang for Suits, maybe have Jessica die, and thank god we didn't do that." The finale/pilot will air early in 2018, but there is no information yet on when the Pearson-based drama would begin. All we request is that it please, please, please be called Pants.