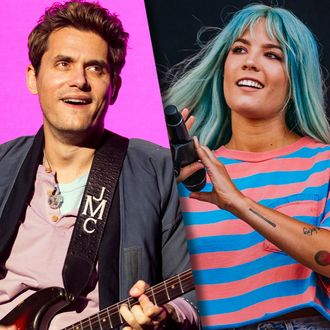 John Mayer; Halsey.
Photo: Getty Images
Halsey, the 22-year-old "Now or Never" singer, wants Leo DiCaprio — in that Hawaiian shirt he wore in Romeo + Juliet (which he most certainly lost many years ago) — to speak at her funeral. She considers Jared Leto "stupidly smart," and says she's learned about acting from him. She's also super-hip and refreshingly candid, especially in a Billboard interview she did with her pal Charli XCX. When the two were asked about their unlikely celebrity friendships, Halsey revealed that she's "platonic mates" with John Mayer. He's cool, she insists, even saying that he's a "comedic genius." (To be clear: no.) Per Billboard:
Who is the most unexpected person you've bonded with in your career?

Halsey: I met John Mayer at a bar. We're like platonic mates now. If I think something is funny, I run it by him first, because he's a comedic genius. He'll tell me if it's funny, but he'll tell me if it's not. I started answering people on Twitter by their first names. Someone will be like, "Halsey fucking sucks," and I'll be like, "Stacy, wow, calm down." He loved that.
Netflix, if you're reading this, maybe it's time for a John Mayer comedy special? Just so we can see for ourselves.