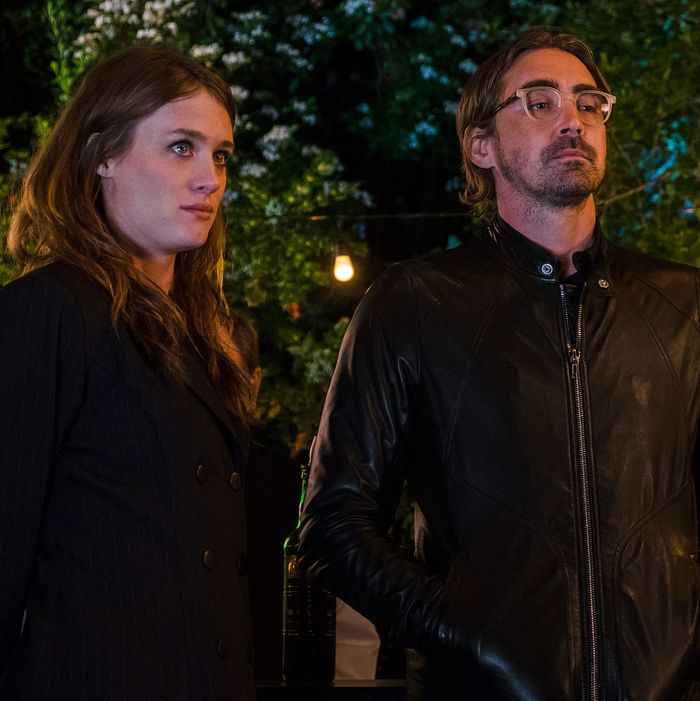 Mackenzie Davis (left) and Lee Pace in
Halt and Catch Fire.
Photo: AMC
Like a start-up company in its infancy, the first season of Halt and Catch Fire understood the basics of what it wanted to achieve, but hadn't figured out how to execute yet. Its female characters weren't fully realized. Some of its plot developments were predictable. (Of course businessman Joe MacMillan (Lee Pace) and a student he lectured, computer genius Cameron Howe (Mackenzie Davis), immediately have sex in a bar in the pilot.) Its first several episodes were so serious and steeped in Silicon Prairie jargon that they sometimes induced drowsiness.
But after picking up steam at the end of that initial run, the AMC drama about the evolution of the computer business in the 1980s delivered second and third seasons that were absorbing, well-written, richly evocative of the time period, and dominated by women who had evolved from sketched outlines of people into strong, multidimensional drivers of the show's primary story engine. Now, in its fourth and, lamentably, final season, Halt and Catch Fire has officially shifted into the early 1990s, exploring the days when the internet was still being invented and, in the process, cementing its place as one of the most confident shows on television. (The third episode of that fourth season airs Saturday night on AMC.)
The first six minutes of the season-four premiere demonstrate just how slickly and gracefully Halt and Catch Fire tells a story while subtly alluding to broader themes and the nature of the medium in which its key characters are working. During that ambitiously long sequence, the camera moves fluidly up and down stairs and through various work spaces at CalNect, the internet service provider that Joe and Gordon (Scoot McNairy) are now running, with less help than they were promised from Cameron. As we travel by proxy through offices under construction and watch them morph into fully up-and-running operations, it's clear that time is passing and that pressure is mounting on Joe and Gordon to play more aggressively in the increasingly competitive web browser game. What's most striking, though, is the seamless transitions in the scene, and the way it flows so effortlessly from moment to moment. Though director Juan José Campanella didn't execute it in a single, unbroken take, it is edited to play like one, which mimics the way that, eventually, people will use Google, gliding from one site to the next thanks to the free flow of information on the World Wide Web. The first time I watched this sequence, I thought: "Wow." Then I thought: "God, I love this show." And then I thought: "Why didn't more people watch it so it didn't get canceled?"
Halt and Catch Fire has a way of consistently making this kind of impression. Later in that same episode, there's another scene at Gordon's over-the-top, Blue Man Group 40th-birthday party, where the song "Happy Birthday" by Altered Images is playing. That semi-deep track from the early '80s, when the series first began, segues into 1994's "Doll Parts" by Hole, at which point the scene shifts from Cameron, alone at the party and looking lost, to imagery of Donna (Kerry Bishé), Gordon's ex-wife and business partner who's now a venture capitalist, at a dinner party. "I want to be the girl with the most cake," Courtney Love moans as Donna beams and sips Champagne. "I fake it so real I am beyond fake." Then we see Cameron again, and we hear: "Someday you will ache like I ache." That imagery and those two songs, in just a minute or two, tells us everything we need to know about where these women are at this point in the story, and how much things have changed over the decade-plus since this series began. (It also points to another thing that Halt and Catch Fire has gotten better and better at over the years: making really smart music choices.)
The show has improved greatly when it comes to depicting the messy relationship between Cameron and Joe, which, in the early days of the series, felt a little too contrived. The punk programmer/gamer falls for quintessential corporate '80s man? Not buying it. But their characters have developed over the years in a way that explains why, despite following their own paths and marrying other people at different points, they're still drawn to each other. Both of them are renegades in their way, both are stubborn, both are insistent on innovating on their own terms, to a degree that has often caused their own downfalls. All of that comes across beautifully in episode two, "Signal to Noise," which focuses largely on a long phone call between Cameron and Joe during which the strength of their feelings for each other becomes obvious. That it's illustrated through a conversation, without either of them being in each other's physical space, is essentially the opposite of how the pilot them rushed into impulsive, cliché sex.
What may ultimately resonate most in season four, though, is the idea of innovators ceding the online revolution to the next generation. Joanie and Haley, the daughters of Gordon and Donna who are currently played as teens by Kathryn Newton of Big Little Lies and Susanna Skaggs, were like the show's desktop wallpaper when they were younger: ever-present but not something you always necessarily noticed. Now that they're older, especially in Haley's case, they're starting to engage more with the technology their parents have spent their lives trying to push forward, something that becomes more apparent in the episode that airs this weekend. Which raises a question for Gordon and Donna, but also Joe and Cameron, too: What happens when a person ages out of opportunities to start a revolution and must accept that the future no longer belongs to them?
It's a particularly apropos issue to be grappling with as Halt and Catch Fire itself comes to an end. Because it has flown so under the radar, it's unlikely that it will go down in TV history as one of the key stand-out dramas of the Peak TV era. But like its four protagonists, it is damn good at what it does. If you don't take the time to appreciate it while it's still here, you might regret it.