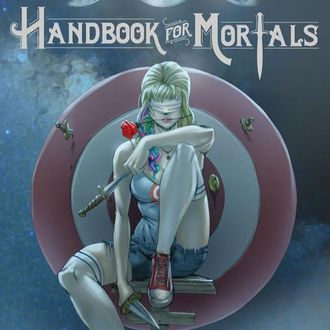 The saga involving the young-adult novel Handbook for Mortals, the New York Times best-seller list, and former American Pie actor Thomas Ian Nicholas is continuing to spiral out of control. After the book was pulled from the top of the YA hardcover best-seller list yesterday after the Times noted "inconsistencies" in reporting and various Twitter users alleged that people behind Handbook for Mortals were trying to game the system by placing bulk orders at various bookstores, first-time author Lani Sarem has fired back in The Hollywood Reporter. In an interview, Sarem, an actress and former music manager for Plain White T's and Blues Traveler, claimed that to her knowledge, there was no strategy to inflate Handbook for Mortals' sales. Sarem insisted that she, Nicholas, who is attached to star in a film adaptation, and her husband Brian Keathley, who founded GeekNation, which is publishing the book, have been promoting the book at events around the country as a multi-platform property. "To go after the traditional marketing strategy of when your goal is just to have a successful book didn't make sense to us," she told THR.
Nicholas, also interviewed, admitted that they had reached out to independent bookstores to buy copies of Handbook in bulk in advance of various comic conventions even though physical copies wouldn't be available until August 31, noting that "maybe that's where things got convoluted." Despite allegations to the contrary, Nicholas said he "didn't instruct anyone" to target stores tracked by the Times.
Sarem and Nicholas noted that they have received "no official explanation" from the Times other than its statement made yesterday. (A rep for the Times confirmed to Vulture it has not been in contact with the author or publisher, and reiterated that sales are reported on a confidential basis.) They believe that the paper caved to a "witch hunt" on Twitter, and Sarem compared the book's surprise success, which they attributed in part to enthusiasm for "an actor who is part of a billion-dollar franchise" to that of Fifty Shades of Grey.
"The last book that caused a lot of controversy was Fifty Shades of Grey," Sarem said. "And it was caused by the book community because it was nothing like what they've put out. Whether you like the book or hate it, you have to acknowledge it outsold everything."