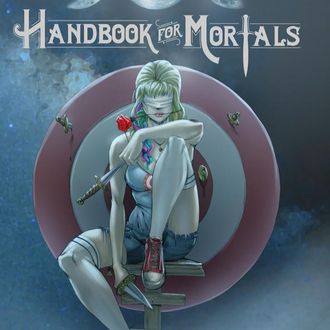 Handbook for Mortals used some off-the-book tactics.
In a dramatic turn of events fit for a good page-turner, the young-adult novel Handbook for Mortals appeared at No. 1 on the New York Times Young Adult Hardcover best-seller list and then was pulled later today after the paper found "inconsistencies in the most recent reporting cycle," a rep for the Times told Vulture. YA author Phil Stamper first questioned the book's sales numbers on Twitter, pointing out that it's out of stock on Amazon and unavailable at most bookstores, likely indicating that there was some sort of scheme to buy out copies of Handbook for Mortals at the right bookstores, artificially inflating sales.
To that end, Pajiba has compiled a fascinating investigation into Handbook for Mortals' sketchy numbers, which seem to have come from a plot to order a significant number (but just under the size of a corporate sale, which the NYT would have flagged) of copies at bookstores across the country. Several booksellers anonymously said that they had received calls from people asking if they reported sales to the Times and then placing bulk orders for Handbook.
One of those orders apparently came from someone who claimed to be making an adaptation of the book. If the book topped the best-sellers list, the thinking goes, it would be more likely to sell a film adaptation. Adding fuel to this fire, Geeknation, Handbook's publisher, recently got a writeup in the The Hollywood Reporter, which mentions that American Pie (yes, someone from that franchise is involved) actor Thomas Ian Nicholas is attached to produce and potentially star in an adaptation of the Handbook for Mortals franchise. Also producing: the book's author Lani Sarem, an actress with a few credits to her name, and Chris Kenner, magician David Copperfield's executive producer. Sarem also has a credit for a role in a TV movie about Blues Traveler, because, as it turns out, she used to manage the band, as well as acts like Plain White T's and 100 Monkeys. Sarem and Kenner's experiences appear to have been fodder for Handbook's plot, which follows a girl who gets caught in a love triangle between a Las Vegas magic show's "good-looking but rough-around-the-edges technical director and Jackson, the tall, dark, handsome and charming bandleader." The prose, according to Twitter user Sarah M. Carter, leaves something to be desired.
After the Times corrected its best-seller list, Angie Thomas's The Hate U Give has reclaimed its rightful place at No. 1 on the Young Adult list. That book, a coming-of-age story about a 16-year-old black girl who witnesses the police shooting her friend, has already secured a very real movie deal, with a cast that includes Amandla Stenberg, Regina Hall, and Issa Rae.