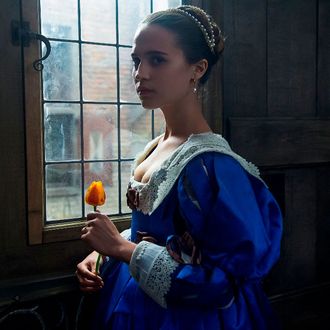 "Alicia, you're doing amazing sweetie" – Alicia Vikander's mom's friend.
Photo: Alex Bailey/The Weinstein Company
A this point, the selling point for Tulip Fever has become that it's not nearly as bad as you expect. Famed producer Harvey Weinstein made the odd choice of sort of defending the film in an op-ed for Deadline today, in which he claimed, "I know this film's not perfect, very few are, but it's a perfectly good time in a movie theater." Tulip Fever, a costume drama set in 17th-century Holland, based on the book by Deborah Moggach, was shot in 2014, and back then it looked like Oscar bait. The Weinstein Company has since bumped back its release several times over, finally pushing it out this weekend after canceling nearly all the press screenings, and setting a review embargo that breaks Friday afternoon. Tulip Fever is now being marketed as a "the year's sexiest thriller." None of that bodes well for the quality of the film.
But as Harvey Weinstein mounts his defense, he would like you to know that it's really not that bad, everyone. "I'm sure that the critics will have their fun with it," Weinstein said, "but I'm proud of this movie, as is the rest of the team behind it." He points out that novelists, of all people, loved it. He says it did well at a posh screening hosted by Tina Brown, Ariana Huffington, Martha Stewart, and Robbie Myers. "No, they weren't telling me that it's Citizen Kane or Shakespeare In Love," Weinstein writes, listing one all-time great movie and a best picture-winner he produced, "but they loved the performances, the cinematography, the costumes, the twists and turns, and enjoyed it for the film it is." Weinstein quotes Shakespeare: "I suppose this is my nuanced attempt to take arms against a sea of troubles." To be or not to be isn't the question, he just wants you to want Tulip.
Most important of all, Weinstein says, "Alicia Vikander also reached out to tell me that her mom's friend gave her a rare call just to tell her how much she enjoyed it." A "rare call!" Alicia Vikander's mom's friend, why aren't you talking to Alicia more often? Is there some Swedish drama going on? Alicia Vikander's mom's friend, if you would like to discuss your thoughts on Tulip Fever in-depth, please do reach out.