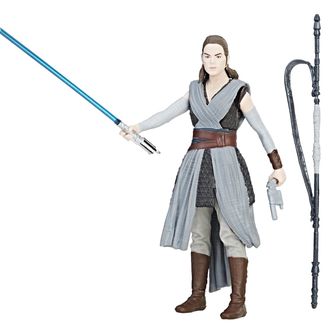 It's about time.
Photo: Hasbro
#WheresRey has seemingly worked: Hasbro announced today their new line of toys for Star Wars Episode VIII: The Last Jedi, via Entertainment Weekly, and among the numerous figurines is one of a lightsaber-wielding Rey (played by Daisy Ridley). For those who don't remember, when Hasbro first launched their set of toys for The Force Awakens, Rey — despite being the central figure of the newest trilogy — was very noticeably missing from the bunch, except for a figure that depicts her fully covered, triggering speculation that Rey was sidelined because of her gender.
Social media had something to say about that, most prominently with the aforementioned hashtag, resulting in frustrating non-apologies from Hasbro and Disney amid a far-too-belated release of Rey toys. But the saga didn't end there, as only a month ago fans realized the heroine was still missing from the Star Wars Monopoly game (Hasbro said this was due to "insufficient interest").
Thankfully, Hasbro has apparently learned from its mistakes, as this set of The Last Jedi figurines features Rey in all her glory. New female resistance characters Rose Tico (Kelly Marie Tran) and her sister Paige (Veronica Ngo) also get their own toys. Maybe hashtags actually can make a difference.