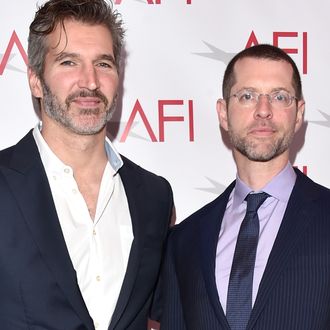 Photo: Alberto E. Rodriguez/Getty Images
Ever since HBO announced it was green-lighting an alternate history series called Confederate, the network has gotten a lot of blowback about it being in poor taste. Like a Civil War version of The Man in the High Castle, the show imagines a world in which the Confederacy successfully seceded from the United States and the South became "a nation in which slavery remains legal and has evolved into a modern institution." HBO president Casey Bloys defended the show recently at a Television Critics Association press event, saying he understands why people are upset by the premise, even as he stuck by it, adding, "All we can do is hope for people to judge the final product of these artists." All four executive producers — David Benioff, D. B. Weiss, Nichelle Tramble Spellman, and Malcolm Spellman — sat with Vulture to talk about the rocky rollout and their intentions for the series, and now the network is defending Confederate again to the New York Times.
"We support everybody's right to express an opinion but the suggestion of irresponsibility on our part is simply undeserved," the network said in a statement on Monday. "HBO has a long history of championing intelligent storytelling and we will approach this project with the same level of thoughtfulness that has always defined our programming. We recognize the sensitivity of this project and will treat it with the respect that it deserves. Our creative partners should be given time to develop the series rather than face prejudgment."
These remarks were made not long after the scene of domestic terrorism by white nationalists that unfolded in Charlottesville, Virginia, over the weekend. Some on social media called for a renewed surge of the #NoConfederate hashtag in response to Nazis and white supremacists marching on the University of Virginia, but HBO says the show will not even go into production until after Benioff and Weiss wrap up Game of Thrones next year. That means it wouldn't come to air until at least two years from now, assuming our civilization still exists at that point.