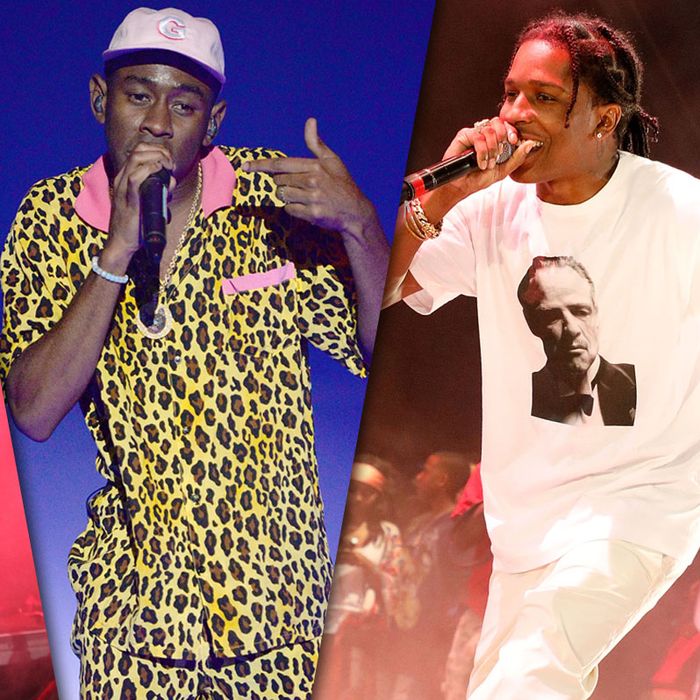 Fashion has always been essential to hip-hop culture. Though the youthful black and brown New Yorkers who developed rap in the '70s and '80s weren't well-off financially, their purchase of clothes was every bit as important to them as the priceless words they fashioned. Tight budgets failed to inhibit the growth of a dashing sense of style: Thrown back on their own resources, kids and young adults in the Bronx, Queens, Harlem, Brooklyn, and Staten Island competed relentlessly to see who could dress most distinctively. Within the space of a decade, a sartorial code no less intricate and elegant than the luxury houses of Paris had evolved to the scale where, allied with street poetry, it could make its presence known and commercially viable on a national stage. Just as Run-D.M.C.'s 1986 triple-platinum album Raising Hell confirmed to a skeptical music industry that rap was both potentially profitable and far more than a fad, its standout third track "My Adidas" at once pioneered the use of rap as a fashion advertisement and paved the way for the first endorsement deal between rap and clothing designers. Adidas sneakers were already the footwear of choice for Run, D.M.C., and Jam Master Jay, but after the song's success, Adidas would be paying them to wear new sneakers, not the other way around.
Run-D.M.C.'s minimal yet distinctive look would set a standard for the generation of New York artists who made their names in the '90s. With rap now a confirmed and growing commercial force, rappers could afford to found their own fashion brands: Wu-Tang Clan's Wu-Wear (resurrected recently) led the charge, followed not long after by Jay-Z's RocaWear and Puff Daddy's Sean John. Clothing became more intimately linked with rappers than ever: Clarks Wallabees shoes became synonymous with Wu-Tang, Puff and his Bad Boy crew's brightest moment in the spotlight was memorialized by the shiny suits they wore, and Timberland boots became shorthand for an entire genre of hard-core rap from Queens and Brooklyn: "It don't make sense, going to heaven with the goody-goodies / Dressed in white, I like black Timbs and black hoodies," Biggie spat on "Suicidal Thoughts." For him as for others, fashion preferences amounted to a spiritual orientation: The dark rugged clothes reflected a grim unyielding vision of sin and retribution.
It would be a stretch to say that New York rap has fallen on tough times since the '90s and early '00s: The city is simply too large to be feeble. But it's generally agreed that from the mid-aughts on, rap's center of gravity shifted away from New York and closer to the South and midwest. You can trace the transition in terms of fashion as well: though Cam'ron made pink a thing briefly, more momentous changes took place in Atlanta, where Gucci Mane, the most influential artist for multiple A-Town generations, literally named himself after an Italian luxury brand, and in Chicago, where Kanye West transformed backpacks and polo shirts into acceptable and even desirable apparel while making time to brag (even as early as 2007's Graduation) about wearing Hermès furs. And there was the Clipse: Norfolk, Virginia's, dynamic duo of Malice and Pusha T laid down a barrage of designer labels on their seminal We Got It 4 Cheap mixtapes in 2004 and 2005. Rap had come a long way from Run-D.M.C.'s black Lee jeans and laceless (because jail regulations prohibit shoelaces) Adidas sneaks; it was beginning to enter into speaking terms with a world of high fashion, centered in Western Europe, that had until recently been inaccessible, unimaginable, and above all unaffordable.
Late this July, a music video was released for the A$AP Mob track, "RAF," featuring A$AP Rocky, his affiliate Playboi Carti, and the Migos' Quavo. (A longer version of the song features Lil Uzi Vert and Frank Ocean as well.) The song, whose title refers to the Belgian fashion designer Raf Simons, seems ideally designed to demonstrate how tightly certain prominent strands of contemporary rap have woven themselves into the world of high fashion. All of the featured artists have made themselves known as style icons, referencing chic foreign brands and designers in their verses with roughly the same frequency that they're seen wearing them. The song is a who's who of (high) fashion rap, and it's fitting that Rocky, with the lead verse and chorus, should serve as the ringleader: No rapper has taken as much time and care to align himself with the world presided over by Simons (recently appointed chief creative officer at Calvin Klein after dazzling stints at Dior, Jil Sander, and his own label) and others of his ilk.
As early as 2011, when he broke out with "Peso," Rocky was bragging "Raf Simons, Rick Owens, usually what I'm dressed in"; his debut album, 2013's Long.Live.A$AP, features an ode titled "Fashion Killa" which is little more than a directory of high-fashion brands (27 in total). Of course, he's hardly alone. Gucci and Kanye (whose Pablo tour merch was just nominated for "World's Best Design" by the London Design Museum) are still active: in the past few years Kanye's been at least as well known for his own sneaker partnership with Adidas and his Yeezy-brand fashion shows as he has been for music. The Migos made a name for themselves by turning "Versace" into a deliciously tacky mantra. Travis Scott has a song called "High Fashion" where he compares fashion brands to drugs, not unconvincingly; "High Fashion" features Future, who's been heard elsewhere smirking about his "Givenchy kicks." For the past 20 or 25 years two central themes in rap have been having money and finding ways to show it off; it makes sense that certain artists known for a dandyish flair in their music would gravitate toward the realm of European high fashion, which is nothing if not exclusive, distinctive, and expensive.
Even in this crowded field, Rocky stands out as the most persistent, the one who has internalized most fully the logic of high fashion. Being from Manhattan helps, of course, but it goes deeper. Rocky cares for lyricism (his sophomore album At.Long.Last.A$AP is very much an album concerned with verbal excellence), but more often his lyrics are meaningful less in themselves and more in the sense that they constitute a coherent image, a look. ("Fashion Killa" is a good example: it's not a good song, but it puts forward a definite image.) It's telling that, before his rise to fame, Rocky and A$AP Yams took time out to test out various flows to see which suited his voice best, essentially treating the studio like a changing room. His choice of instrumentals is also key: Rocky favors dense, smooth, complex beats designed to sound custom and costly. Such tracks frame his vocals exactly as a designer outfit worth tens of thousands frames the body, something clearly underlined by the "RAF" video, which consists of nothing but Rocky, Carti, and Quavo walking around in different fits like fashion models, taking time out to say a few choice words over a well-tailored Dun Deal beat. Rocky's best songs exude a spirit of dominance, but it's a dominance of style rather than of will: They sound great in the way that one feels great before the mirror, having assembled an indisputably superb wardrobe for the night to come.
Salutary contempt for this costly cult of European style comes from Tyler, the Creator: "My Vans are Vans 'cause Tyler does not fuck with Giuseppe [Zanotti sneakers] / Fuck the Gucci, fuck the Raf, and fuck the swag and all that other shit they wearing," Tyler snarls on the A$AP Mob track "Telephone Calls." For all his iconoclasm, Tyler is the latest in a tradition where rappers brand and sell their own clothes instead of flying overseas to rent out others' style: his Golf brand offers, for an affordable price, shirts, shorts, and hats designed by Tyler himself. He also recently collaborated with Converse on a series of One Star shoes, offered at a reasonable price. But a difference in opinion about fashion is hardly enough to keep Tyler and Rocky from being friends and tour mates. In the case of both it's clear that, whether self-made or imported, fashion is every bit as vital to hip-hop as it has ever been. The distance between "My Adidas" and "RAF" is real, but the similarities outweigh the differences. Rappers care immensely about how they come off, in language and in fabrics alike. Now that they can afford to wear the most luxurious and rarefied material, why shouldn't they take advantage, and tell the world?