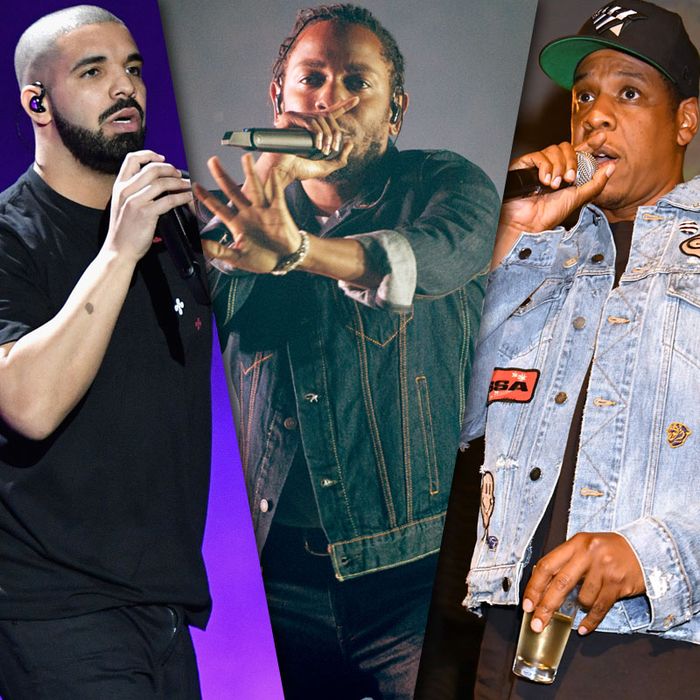 From left: Drake, Kendrick, Jay-Z.
Last Friday saw the release of the music video for "LOYALTY," the languid yet driven single from Kendrick Lamar's best-selling DAMN. As we've come to expect from Kendrick, everything has been meticulously arranged. Directed by Dave Meyers & The Little Homies, the "LOYALTY" video comprises a series of striking set pieces revolving around the titular theme, or its potential absence: Kendrick blindfolded and betrayed; Kendrick encircled and sinking with no one to help him; Kendrick fighting to defend his lady love; Kendrick keeping her from falling from a hundred stories. Of course, the most striking element isn't anything conceptual, it's the presence of Rihanna, the featured artist, playing Kendrick's love interest, and the clothes that adorn her figure as she and Kendrick gaze fondly and faithfully at each other. They're entirely convincing: Rihanna's a gifted actress and it's not like Kendrick, or any man, is going to have trouble behaving as if he's fallen for her.
Of course, they're not actually dating. Kendrick's long been committed to his high-school sweetheart, and Rihanna's too committed to her own freedom. But the fact that they're in such intimate proximity, that they're that sweet on each other, seems designed to send a message. Given Drake's on-and-off dating history with Rihanna, and the fact that Drake and Kendrick have been quietly but vigorously contesting the title of biggest and/or best rapper for at least the past four years, it's pretty much impossible not to take the video, and the song it serves, as a low-key insult aimed at the Canadian artist, who's built no small part of his career on songs asking ex-girlfriends for perpetual loyalty. It's the latest volley in a feud no less intractable for being fought entirely in subliminals.
The video, like the song, like the album on which the song features, seems to be quietly decisive. With DAMN. leading Drake's More Life on the charts despite being released later in the year and having ten fewer tracks to juice the streaming counts, it's evident that Kendrick is now even or better with Drake in the one field where Drake seemed unbeatable. In terms of street cred and lyricism (the other two traditional criteria in a rap beef), Kendrick was already dominant. With figures on his side, it's beyond dispute: He's topped Drake, who last year seemed bigger than ever, and he did it without ever calling him out directly.
The triumph is a testament to Kendrick's incredible competitive drive and strategic vision. Arguably he's been plotting to overtake Drake since his show-stealing guest appearance on Take Care's "Buried Alive Interlude," where he subtly painted Drake as being committed to no principles higher than popularity and materialism. Certainly he was scheming when he suffocated the hype for Nothing Was the Same by dropping his throne-claiming "Control" freestyle a month before its release, and since then, it's become something of a habit for Kendrick to seize rap fans' attention exactly when Drake most wants it. He squashed If You're Reading This It's Too Late, the collection featuring Drake's most accomplished rapping, by releasing the monumental To Pimp a Butterfly a month after; likewise, he landed on More Life (released 3/18/17) with DAMN (4/14/17), not to mention that DAMN was heralded by "The Heart Part 4," a non-album single released five days after More Life. Not only did "Part 4" suck up any chance for Drake to bask in More Life's relative success, it featured disses hard to interpret as being directed at anyone but Drake: "So that means you ain't bigger than rapping"; "A difference between accomplishments and astonishments"; plus a line involving Jay-Z we'll come to shortly. Kendrick is a good and faithful guy, but he's also a merciless contender, an artist unwilling to accept anything less than uncontested dominion over rap. His success has been a product of foresight and calculation. Chance, if it played a role at all, was a secondary factor.
But it's hard to think that Kendrick crowned himself entirely on his own. Much of the reason Drake seems exhausted now (quite literally — several lyrics from More Life refer to the artist's fatigue and desire to retreat) is because he expended a tremendous amount of energy feuding with Meek Mill after Meek exposed Drake's use of ghostwriters on If You're Reading This. Views, originally intended for a summer 2015 release, was derailed for almost an entire year in the wake of the outbreak of hostilities with Meek; when it finally did arrive, a year later, it was, despite having moments, so prolonged and mediocre that Drake's reputation, though not his sales, suffered. It was true that "Hotline Bling" and "One Dance," not to mention "Work," made 2016 Drake look bigger than he'd ever been before, but the overall drain on his street credibility and musical/lyrical reputation was huge. Meek took a loss as fleeting as the memes that originally did him in, but the damage to Drake's reputation was permanent. Without being exposed as a speaker of others' words followed by the delay, then critical flop, of Views, Drake would still be a credible contender for the biggest rapper. Instead, thanks to Meek's recklessness, Kendrick has passed him, and Kendrick looks like he'll be on top for as long as he wants (forever, basically).
The question, then, is why Meek would sacrifice the development of his own career to put a dent in Drake's own. Is he just that impulsive? Quite possibly — jealousy over Meek's then-girlfriend Nicki Minaj certainly couldn't have helped — but there may be other factors. It's notable that, even in the midst of beefing with Meek, Drake started taking more and more shots at Jay-Z: "I used to want to be on Roc-a-Fella, then I turned into Jay," Drake boasted on "Summer Sixteen." The decision to go after Jay doesn't make sense. Why pick another fight, especially with such a powerful figure? Even if Drake possesses no small measure of hubris, give him credit: He's shrewd enough not to fight on two fronts. It only makes sense if Drake was assuming that the second front was actually an extension of the first, that Jay had somehow been responsible for pushing Meek (managed by Jay's Roc Nation) to discredit Drake. Given that no one else, outside of his family, had issues with Jay at the time, we can assume that many of the foe-directed lines (the ones not aimed at Kanye, at least) on Jay's recent 4:44 are aimed squarely at Drake. And it's all but certain that when Kendrick stepped up to defend Jay's honor on "The Heart, Part 4" — "Hoe, Jay-Z Hall of Fame, sit your punk-ass down" — he was defending it from Drake. Out of loyalty, but also for himself.
So to sum up, Jay, through Meek, helps provide the opening for Kendrick to pass Drake. If this still seems far-fetched, consider the fact that Jay basically spelled out this strategy years before the beef even started. On his featured verse on "Light Up" from Drake's major label debut Thank Me Later, Jay offers some sage advice to Drake to use in future conflicts.
Drake, here's how they gon' come at you —
With silly rap feuds, trying to distract you;
In disguise, in the form of a favor:
Barzini meeting, watch for the traitors.
Rihanna's first words on "Loyalty" — "It's a secret society, all we ask is trust" — aren't her own. They're a direct quote from none other than Jay-Z, referring to his Roc-a-Fella team way back in 2000. Jay and Rihanna have a long-standing business relationship. It was Jay, as president of Def Jam, who originally signed Rihanna to a major label, Rihanna premiered Anti on Tidal last year, and she continues to be managed by Roc Nation. Of course, Rihanna's no pawn: If she went along with Jay and Kendrick's scheme and linked up with Drake last year just to betray him and make eyes at Kendrick, it was for her own reasons. Her affection for Drake is real, but her tolerance for his self-serving antics is low; it's conceivable that she wants to reduce him to a manageable level.
Drake has always been, behind the mild demeanor, uncommonly insolent: He was throwing little shots at Jay ("I'm just feeling like The Throne is for the taking, watch me take it") even back when Jay was lending him cosigns. If Drake could only be humble and accept a title lower than the greatest, no one would have an issue with him. It might be working: The absence of music videos from Drake in a year loaded with videos and releases from Kendrick, Jay, and Meek seems like an indication that he's beginning to get the message. But only Drake himself, alone on the grounds of his vast Calabasas estate, knows if he's truly ready to fold. He's still an enormous and enormously canny artist, but aspiration has always been his great theme, and accepting a subordinate role after spending the past few years proclaiming himself the preeminent artist in the game won't come easy. On the other hand, there's no way he can take on an entire secret society with Jay and now Kendrick, the anointed heir, at its head — he's been trying to, after all, and it hasn't worked out for him. You could say that he's damned if he does, and damned if he doesn't.