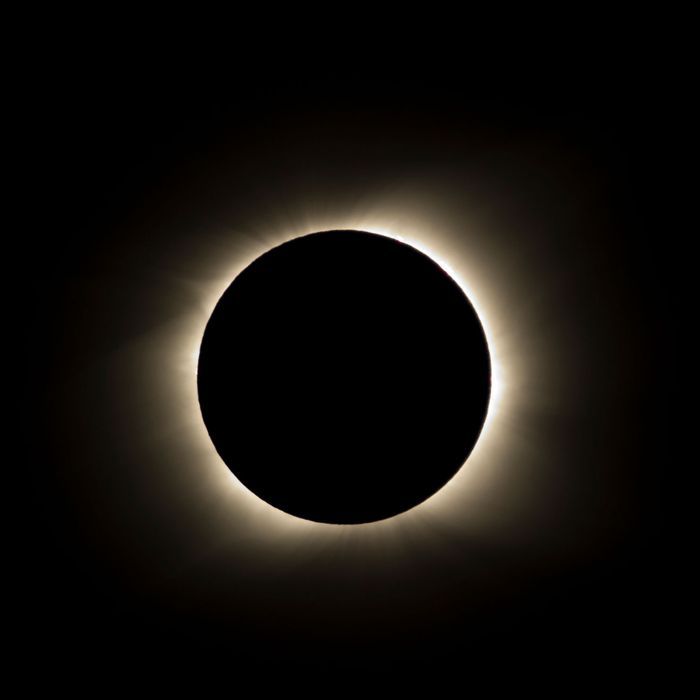 Photo: Martin Bernetti/AFP/Getty Images
Today, the moon will come between the sun and the Earth at just the right angle for a total solar eclipse to cross the United States. Even though solar eclipses happen multiple times a year, it's rare to be able to witness a total solar eclipse. Each one is visible from only a small area, and many aren't visible from land at all. If you live far from the path of total eclipse, missed your chance to snag the anti-blinding accessory of the season, or just can't manage to leave the desk, here's how you can livestream the cosmic Super Bowl.
NASA TV
In its four-hour show, "Eclipse Across America," NASA will run a livestream across the path of totality, from Oregon to South Carolina. The footage will feature views from 11 spacecrafts and more than 50 high-altitude balloons, with commentary from the astronauts aboard the International Space Station. Here on Earth, NASA will conduct live reports from the cities directly on the path, from coast to coast. Beginning at 12 p.m. ET, you can catch it on the official site, or on Facebook Live, YouTube, Periscope, Twitch TV, or Ustream.
Time
Time is livestreaming the eclipse in a free broadcast featuring popular space personality Amy Shira Teitel and former NASA astronaut Marsha Ivins. The broadcast, which begins at 12 p.m. ET on Monday, will be available on Time.com, as well as Time's Facebook and YouTube pages. Time is also producing a 360-degree virtual-reality livestream for the full experience.
CNN
CNN is jumping on the VR bandwagon with 4K, 360-degree cameras capturing the eclipse. Its "Eclipse of the Century" livestream begins at 1 p.m. ET, accompanied by a Facebook Live 360 video. For the overachievers among us, the footage will also be streamable via VR headset on the Samsung Gear or Oculus Rift.