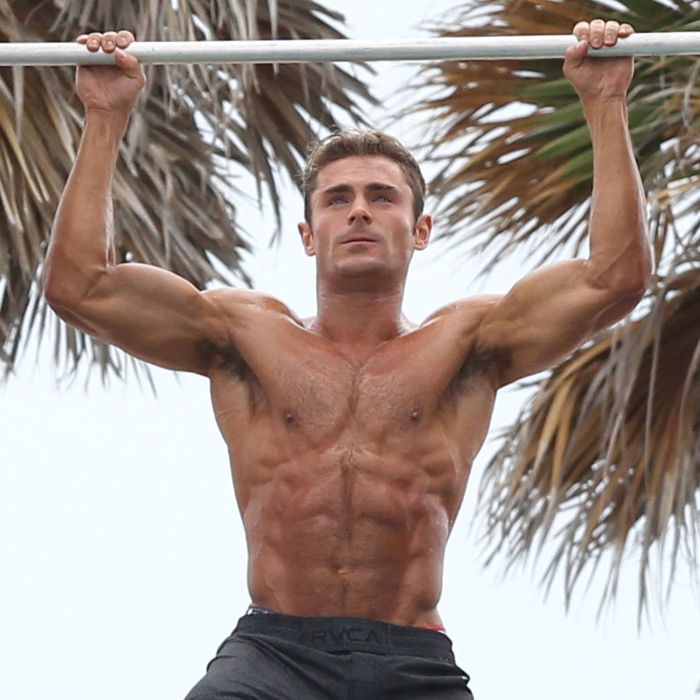 Zac Efron does a pull-up.
Photo: Splash News
Zac Efron's abs have been haunting me ever since I saw them crinkle together in the trailer for Baywatch. I was even more distraught by their prominence in the movie, released earlier this summer, in which Efron plays bad boy Olympic swimmer Matt Brody and goes vein-to-vein with Dwayne Johnson on an obstacle course that includes salmon ladders and carrying refrigerators. Though smaller than the Rock, Efron is at peak muscular definition, his body resembling something lifted from "Bodies … The Exhibition." Neither man's body makes sense as that of a Miami lifeguard, and watching Efron in Baywatch elicited a panorama of emotions: confusion, envy, horror, and a sense of the unholy. It was at that moment I understood that there is a limit to swoleness, to what we are demanding of ourselves and our actors. I felt it was a moment for us, as a culture, to pause and reflect: How did we get here?
In an ongoing personal quest to better understand male swoleness and its discontents, I spoke to Patrick Murphy, the man behind Efron's Baywatch muscles. Murphy was doing interviews as part of Baywatch's release on Blu-ray August 29 — a fitting occasion, considering one could now bear witness to Zac Efron's rippling obliques in "4K Ultra HD." This is where we've been heading visually: toward a heightened sense of the unreal.
Patrick Murphy is a physical trainer and nutritionist based in L.A., and can rightfully call himself a "trainer to the stars." His very long and famous list of clients includes Jennifer Lawrence, Keanu Reeves, and Judd Apatow. I start by asking Murphy to describe some of Zac Efron's workouts, which he calls a "loaded question."
"I threw my whole tool box at [Efron]," Murphy tells me with the clipped speech of a college crew captain and a touch of California woo-woo ambiguity. "I basically covered everything dealing with stabilizing and balance and everything dealing with strength and everything dealing with power. We did a lot of balance and agility training, we did a lot of the heavier lifting and strength training with slow movements, and then we also did power train[ing] — quick, very controlled movements like power jumps and power lunges and quick twitch movements and jumping movements." As someone who has been inside of a gym, I already feel winded by these descriptions.
Efron did Murphy's dynamic and ever-changing program for about three months, five to six times a week, sometimes twice a day (called "two-a-days" in exercise parlance). After their workouts, Efron would also do a two-hour lifeguard-training program before working out again. He also owned an "awesome road bike" and would go on 20- to 30-mile bike rides. And as you might expect, the secret — including a dedicated trainer, nutritionist, and money — is "consistency over time." Zac Efron was working out all the time. "Imagine the calorie expenditure," says Murphy. "Remember, high heart rate is directly related to calorie burning, so he's burning close to 1,000 calories for every workout." At this point, I estimate that one workout could amount to a solid basket of fried chicken, two sides, and a biscuit. This sounds pretty good to me.
But our former Link Larkin wasn't eating a two-piece and a biscuit. "The foundational idea I put him on is the whole food diet," says Murphy, which means avoiding processed foods, including any and all flour products. Not only were pasta, cookies, and tortillas verboten, but also those trendy "gluten-free" flours. He could have an apple, but not apple juice; brown rice, but no brown rice pasta. "Nothing from a box," says Murphy. "All the greens, all the veggies, all the lean protein and the majority of foods he ate were alive and could spoil fairly quickly, because if it spoils quickly, it's going to be a healthier product than something with fillers and preservatives." (In a Men's Fitness interview ahead of Baywatch, the writer reports that Efron was so committed that he brought his own beverage to a juicery, as prescribed by Murphy — a "yellow-brown liquid with a foamy head.")
I'm wondering what all of this is for — all the diet restriction and constant workouts — but the answer, according to Murphy, is obvious. Murphy explains that he and Efron wanted to create "the most ripped look we could achieve in Hollywood history." He adds, "When I said, 'Let's go for this Bruce Lee look,' he said, 'Yes, I love Bruce Lee. Let's go for it.'" This is, apparently, a new Hollywood game — a competition where an actor is able to leverage all available resources to create a body that we haven't seen before and create a new fitness ideal.
Indeed, in that same Men's Fitness interview, Efron said that he wanted to "drop the last bit of body fat" and "get into the best shape of his life." "The goals were basically to let's see how far we can take this and create the leanest body possible. He was all game for it," Murphy says. "I've never seen anyone as ripped as him for that shoot and I've been training for 20 years and done a lot of movies." If this sounds appealing to you, you're in luck: Average people can attempt a version of Efron's training program and download a 17-page PDF at Baywatchbodyworkout.com for $149.99.
My 15 minutes with Patrick Murphy is winding down, and I can't help but take stock of our responsibility as cultural consumers in the abnegation of Zac Efron's body fat. We cheered him on as he took his shirt off in Neighbors, lustily applauded as he took off his shirt at the MTV Movie Awards, and nodded tastefully as he played a hot DJ in We Are Your Friends. These now feel like grossly naïve times. Long gone is the dancing youth with the floppy hair from High School Musical, or even the peeing youth with the floppy hair in The Paperboy. In their stead has emerged a new Zac Efron, veined, tough, and leathery.
But before I get off the phone with Murphy, I have to ask him: Is this Zac Efron's final form? "Zac achieving what he did for this movie shows [us that nobody] knows where he's going to go with his career," Murphy says. "He may be the next Bourne Identity guy; he might be the next John Wick. Who knows what movie he'll get after showing his physicality? We'll see what happens." Meanwhile, we'll be waiting here with our buttered popcorn, thinking about our choices.