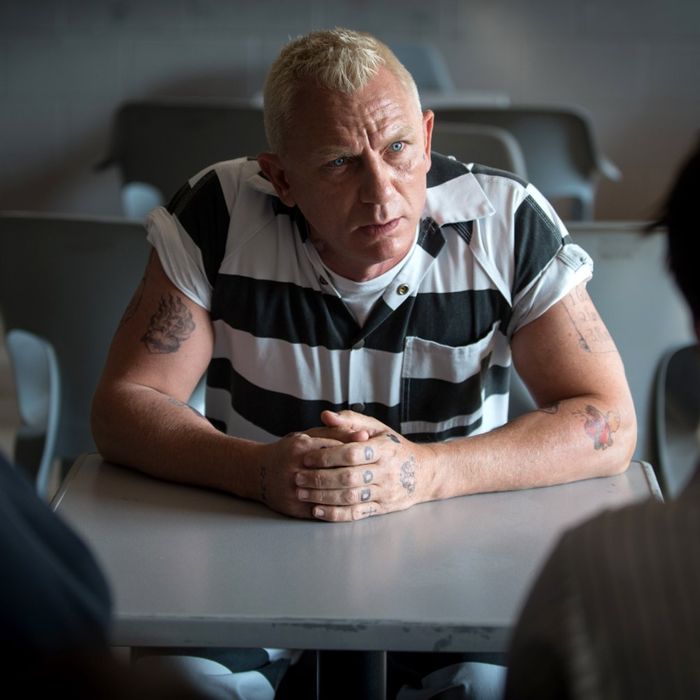 Daniel Craig.
Photo: Claudette Barius /Fingerprint Releasing
There's a cheeky joke tucked into the trailer for Logan Lucky, Steven Soderbergh's southern-fried heist comedy. After touting the stars of Soderbergh's ensemble — including leads Channing Tatum and Adam Driver as a pair of ne'er-do-well brothers — the trailer pivots to scene-stealer Daniel Craig, who gets his very own special credit: "And introducing Daniel Craig as Joe Bang!!"
Craig, of course, is no novice to Hollywood. The 49-year-old British star is best known as the current James Bond, though even before he became film's most famous superspy, Craig had been acting for over 15 years. Still, the trailer implies that Logan Lucky will introduce you to a side of Craig you've never seen before, and for once, that isn't false advertising. Finally, Daniel Craig looks like he's having fun.
Until now, Craig has played things awfully straight. His résumé is stacked with so many dramas and serious action films that even Christian Bale might blanch, and aside from the unfortunate Jonathan Taylor Thomas haircut that Craig sported in 1995's A Kid in King Arthur's Court, he's done little to make audiences want to laugh. His four-film tenure as James Bond started on a promising note — go back and watch Casino Royale, especially the train sequence where Craig flirts with leading lady Eva Green, and you might be surprised by how often he smiles — but the more Craig returned to the role, the less he brought to it. His performance in the most recent Bond film, Spectre, was positively statuesque: Craig played nearly every scene like he was determined not to even move. Behind the scenes, Craig had lost his mojo, telling reporters that he would rather slash his wrists than make another Bond movie and trudging morosely through the Spectre press tour like he was channeling TV's Daria.
Thank goodness for Soderbergh, then, who saw something in Craig that had never before been coaxed out: a go-for-broke comic hamminess. Logan Lucky is the only non-Bond film that Craig has made over the last five years, and he's clearly seized the opportunity. As Joe Bang, an imprisoned explosives whiz who's broken out of jail to help with the heist, Craig reads every line with an I-can't-believe-they're-letting-me-do-this glee. He's not just incarcerated — he's "in-car-cer-a-ted!" When Craig strips down in the back of Riley Keough's car and warns her that he'll be getting "nekkid," Craig spits the word out like a kernel that just popped, then grins: Finally, he's got something on his reel that he can show the Coen brothers!
I'm not sure what made Soderbergh think of the stolid Craig for this role, though serious actors have long embraced the southern accent as permission to let loose. Look at all the Brits and Aussies who came alive doing arcs on True Blood, for example, or watch Sam Raimi's 2000 film The Gift, where Keanu Reeves leaves his Zen countenance behind as a drawling, over-the-top Georgia baddie. Craig stretches out those southern syllables like taffy, and while he may not win points for verisimilitude, the fun he's having with his dialogue is contagious.
Even more than that, though, Craig seems enlivened by playing the sort of flamboyant character he'd usually have to offer glum rejoinders to as James Bond. After watching actors like Javier Bardem and Christoph Waltz flit around as foils for 007, it's natural for Craig to want in on the sort of juicy supporting role that could give him a reprieve from leading-man drag. He's been in-car-cer-a-ted by franchise demands for so long … who would begrudge him the chance to break out for a few hours, do something wild, and return to his years-long commitment with a rejuvenated smile?
We'll see if it sticks. Craig is rumored to have two more Bond films on his contract, and the fizzy mojo he gins up as Joe Bang could dissipate if he's forced to go through the motions in more than one assembly-line sequel. I'll cross my fingers that he can bring Logan Lucky's sense of play to his signature role but if not, let's hope it will at least lead to more opportunities for Daniel Craig, vivacious comic actor. After all, we've only just been introduced to him.