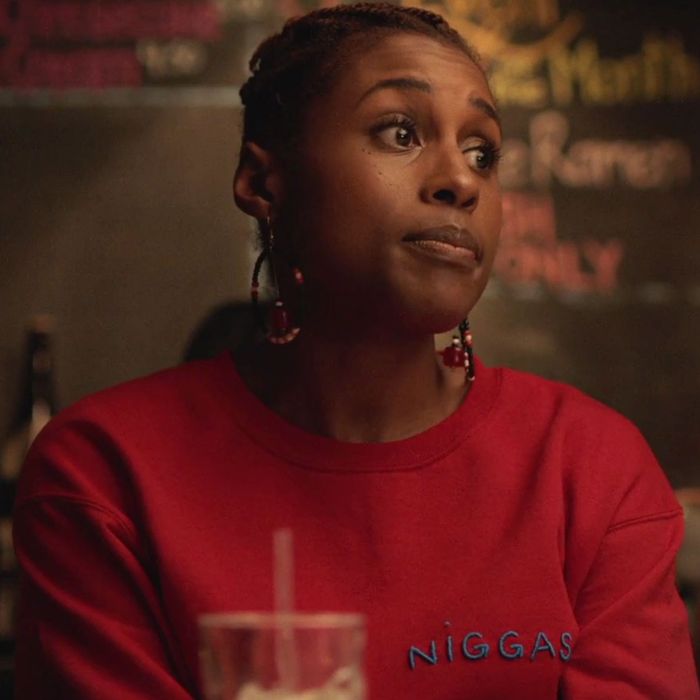 A lot has changed in Insecure's second season: Everyone's single, employed, and doing them. There's a certain glow about Issa, Lawrence, and Molly and it's not just all that melanin popping through your TV screens. They're living good (enough) and looking even better for it, starting with a style overhaul. Between seasons, everyone's closet has been revamped: Issa's mixing revealing dresses with her famous graphic tees; Lawrence has gone from bummy couch potato to Instagram thirst trap; and Molly's made room for more casualwear in her wardrobe of power suits, and traded in pastels for sophisticated darks at work. All three characters have costume designer Ayanna James to thank for their new swag. Vulture talked to James about telling stories through clothes and why she hopes Issa's outfits this season will blow up Twitter. (Already, one of them has.) We'll update this post with more looks from throughout season two.
In season one, Issa's (played by creator Issa Rae) in a relationship slump reflected in her outfit game. She dresses for comfort over cute, wearing a uniform of vintage tees, jeans, a camo jacket, and some Converse that James says matches Rae's day-to-day life as a multi-hyphenate boss. At work at her sometimes-racist nonprofit job We Got Y'all, that look won't change. But in her personal life, which now includes a lot of Tinder swiping and plotting to get Lawrence's attention, she's gone for a more grown 'n' sexy approach. New to her wardrobe are more form-fitting pieces that show off some skin and — gasp! — heels. "Lawrence left her with his Best Buy T-shirt. She has to feel like she's going to get him back. What he had obviously wasn't working, so she's gonna show him what he's missing and scratch a couple more itches along the way," James says, referencing Issa's affair with an ex last season. "You'll see a difference in her effort in what she wears." In season one, Issa wears looser tomboy interpretations of femme clubwear, but by season two, with a subtle weight loss taking effect, she experiments with body-con dresses and crop tops, even when playing host at her casual house party (to not so slyly try to impress Lawrence).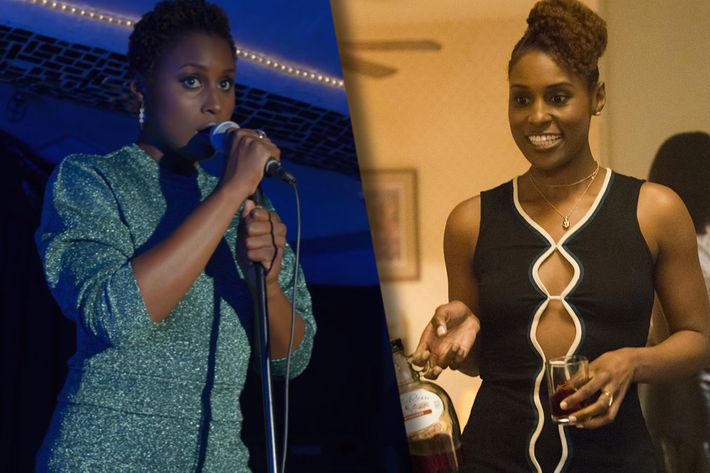 But that won't mean Issa abandons the clothes that feel most like her. Even as she tests the waters of L.A.'s dating scene, Issa wears outfits that make her feel at home: That means rocking a bold sweatshirt with the word "Niggas" stitched on it on a first date — a look James pulled from a young black designer out of New York named Recho Omondi. The actual sweatshirt costs $220 (though it's now down to $160, after complaints on Twitter that it was overpriced), but James wants even pricey streetwear to have the feel of lived-in pieces from Issa's closet that she could've bought at a consignment shop in college. For a booty call later in the season, she wears a jersey she explains she got from the swap meet. "Issa doesn't always get it right, but when she does, you're like, 'That's cute,'" James says. "And when she doesn't, it's like, 'Aw, you tried.'"
Whatever look Issa goes for, James wants it to make a cultural statement: "I chose shirts, items, and graphics that could possibly generate more conversation and discussion. She wears everything from a real vintage Tupac and Biggie shirt to a sweater that says 'The FBI Killed Fred Hampton.' Anything that makes people go, 'Wait a minute, where did she get that shirt from?' is what I want. That's very specific to women of color our age." For many of Issa's looks, James says she'll deliberately source from fresh black indie talent and give them the same boost that Sex and the City gave to Manolo Blahnik.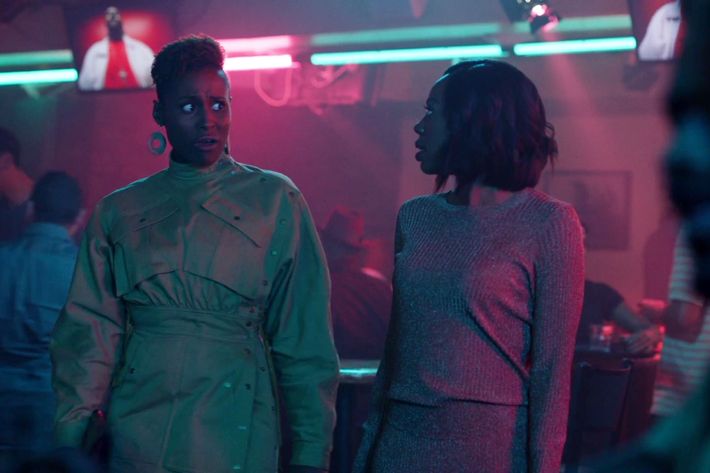 To pull off one of Issa's most questionable looks this season, an unflattering, puffy, high-neck, denim-khaki dress she wears to go pick up men at a bar with Molly, James leaned all the way into Issa's awkwardness. "The girls are supposed to feel out of place in that scene. They're at a bar called the Cork, which is pretty much a dive bar in L.A. In the background you'll see old cat daddies, hoochies — it's a place that's so confusing," James says. It also doesn't help that Issa steps out of her comfort zone and into a pair of Gucci espadrille wedges ($695) that she can't walk in but insists on trying to make look sexy regardless. Issa thinks she's being cute and unconventional, until she spots another woman in the bar wearing the exact same dress, with better shoes.
The dress is a runway piece from Kenzo that James had to hire a seamstress to duplicate because another was never produced. Rae's personal preference for Adidas and casual flats inspired the out-of-character footwear choice, making for a running joke about Issa's noticeable discomfort in those wedges, which will reappear in a future episode. "In real life, Issa's struggling to walk in them, so it was perfect. Because, also, who wears espadrille wedges? Who does that? You see the difference between her and Molly when they're in that club," James says.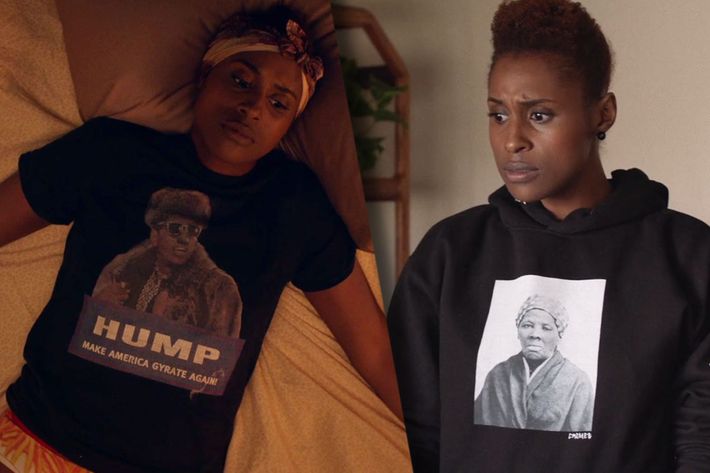 Meanwhile, at her job this season, Issa encounters a racist high-school principal whose hateful comments about Latinx students seem to rattle her white co-worker, Frieda, more than they do Issa. But at home, Issa wears her political views quite literally, using outfits reserved for her personal life to make the statements she can't at work. She's seen in a hoodie with an iconic photo of Harriet Tubman on it — an homage to Tubman finally being chosen as the new face of the $20 bill. Issa also mocks Trump's MAGA campaign slogan, wearing a T-shirt James bought from Amoeba Music (a famed California record store she imagines Issa would shop at) that says "HUMP MAKE AMERICA GYRATE AGAIN." "These are pieces she would've collected over the years. Issa's always kinda been woke," James says, "so if she would've been at a mall and seen a Harriet Tubman T-shirt, she'd buy it just because it has Harriet Tubman on it."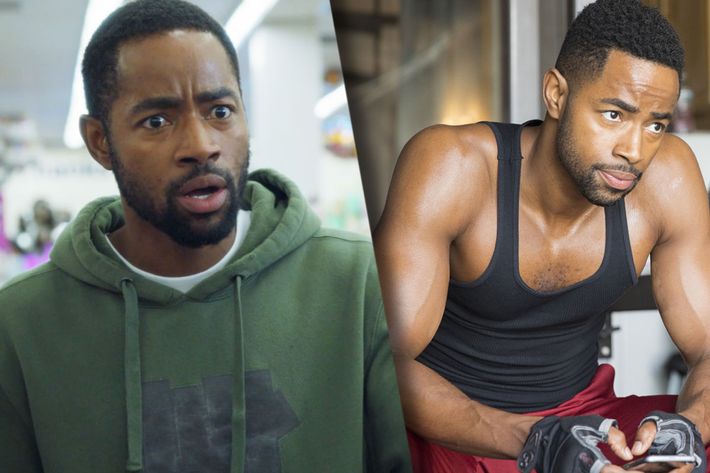 For Lawrence (Jay Ellis), his style transformation is more of a rescue. In season one, he had been unemployed for years, with little money for even Issa's birthday, let alone new clothes. His appearance suffered for it. Lawrence spends half the first season in frumpy sweatpants — size 3X to disguise Ellis's real-life ripped physique — and in desperate need of a haircut. Lawrence's style evolution began toward the end of last season, when he started going for runs and finally got a shape-up. "What happens to a man's ego when it's bruised by the woman he loves? Most men I know get a haircut, put on some nice shoes, and go to town," James says. "Whatever is gonna make them feel better. We applied that." To complete his glow-up, James gave Lawrence a tailored Vivienne Westwood suit for Issa's fundraiser last season, and started putting Ellis (who's a former model and athlete, the latter which James says could be a college backstory for Lawrence) in muscle tees and tanks and fitted gray sweats — a black woman's kryptonite — for his weekend sexfests with Tasha.
At his tech job, he's in trendy button-ups and slacks, inspiration James says he would've gotten from temporarily rooming with his excessively flashy best friend Chad. But the biggest influence? #LawrenceHive. "This is what Lawrence would look like if he'd always been working and his confidence had stayed up," James says. "We really wanted to show the sexiness of Lawrence. Our hearts were all broken when he left Issa, so you need to be in that space mentally when you see him of 'Damn, I really want them to get back together.'"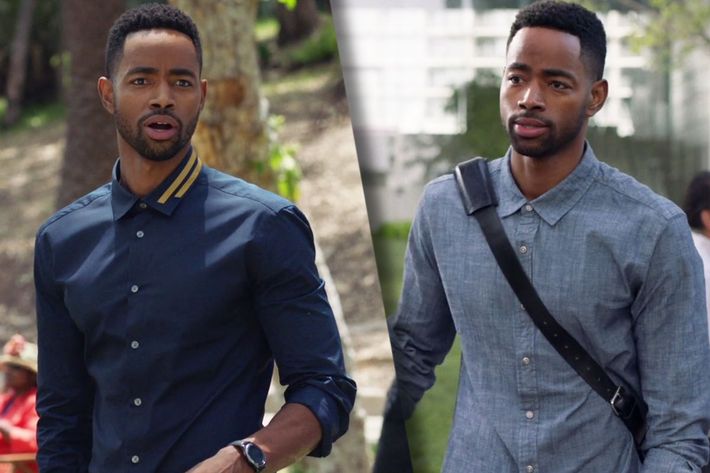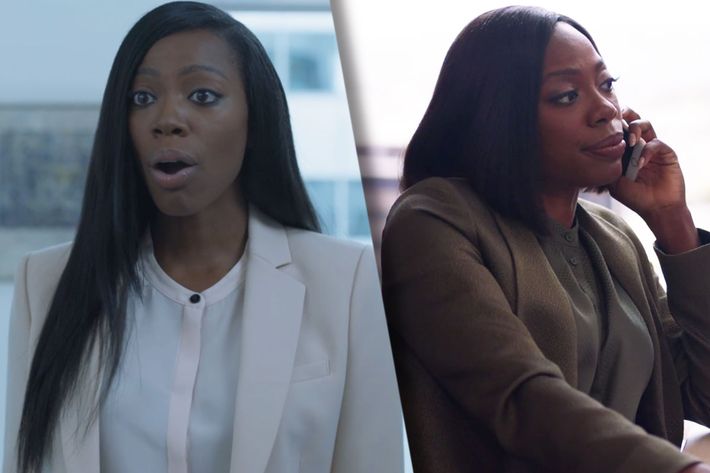 Molly's (Yvonne Orji) growth in season two has more to do with working on her mental health as she enters therapy. But the steps she's taking toward interior self-care affect how she presents herself, beginning with a new weave and renewed professional drive. In season two's first episode, Molly learns that she's being underpaid compared to a white male co-worker. Immediately after accidentally getting his paycheck, she ditches her light and approachable pantsuits for darker "I mean business" colors, which continues throughout the season. "In her head, she wants to prove to them that she's worth her weight so we cut out all the frills. She's trying to blend into the all-boy's club," James says. But like Molly's style inspo Olivia Pope, that doesn't mean bossy can't look sexy. "Molly feels like the lawyer who would go to New York Fashion Week," James says. "Everything is form-fitting and falls beautifully on her, but it's also kind of sexy and thottish." Last season, Molly turned heads with Fendi heels; in season two, she'll slay in Cushnie et Ochs and Derek Lam. Molly's no longer just dressing for the job she wants, but the salary she deserves.
But because Molly's also in therapy and has hit pause on the dating scene, James had to come up with looks for Molly outside of work and the day-to-night transitional pieces she's used to: "We established in season one that when the girls are together, they're in their safe zone. Also, [director] Melina [Matsoukas] didn't want Molly to seem so perfect all the time. At work, she's the Will Smith of corporate, but her dating life was in shambles. It was suggested that she go to therapy. So what does a relaxed Molly look like? Is she relatable? Of course she is! We all have a homegirl who's great at everything on paper but, in person, is kind of crazy." In a total role reversal, Molly's the one seen wearing a vintage Jimi Hendrix tee and denim skirt to Issa's house party, while Issa's now the one in an easily removable dress, just in case.