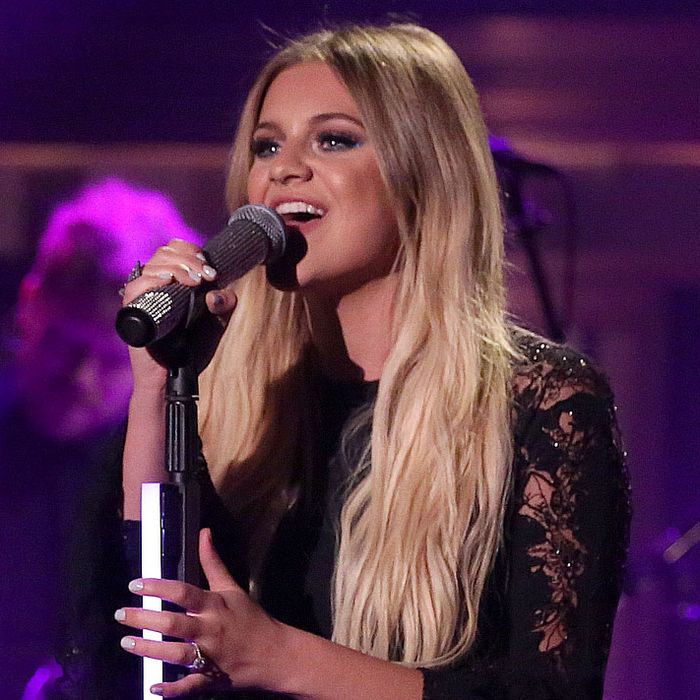 Photo: NBCU Photo Bank via Getty Images
For several years now, the country-radio format has been notoriously stingy toward new female acts seeking airplay. Only one woman who's arrived on the scene this decade has been able to establish a pattern of radio success, and that's 23-year-old Kelsea Ballerini. She got her most significant exposure beyond the country world when a Best New Artist Grammy nomination earned her a performance on this past February's awards telecast alongside Danish pop-rockers Lukas Graham. "I wasn't only trying not to mess up for people that did know me," Ballerini says of the pressure she felt, "but it was also my first introduction for people that didn't."
There was no reason to harbor especially high expectations when she released her debut single, the chipper country-pop tune "Love Me Like You Mean It," in 2014 and her album, The First Time, the following year, if only because she was a total unknown who had neither the cosign of Nashville's brand-name collaborators, which can make a huge difference for newbies in the insular country-music industry, nor the heft of a powerful record label behind her. (Her independent label, Black River Entertainment, was still relatively new to town and had yet to break an act.) It helped, though, that Ballerini seemed perfectly in step with the aesthetic and tonal shifts happening in the country mainstream — toward cooler, more casual vocal affects and songs built around programmed, rhythmic pulses.
Fond of explaining herself as an East Tennessee farm girl who'd studied Taylor Swift's template, and whose first concert experience was a Britney Spears performance, Ballerini brought youthful effervescence and modest yet flirtatious forwardness to her material, all of which she wrote or co-wrote. She also proved herself industrious and put-together, a quick study in the crafting of her glamour-girl-next-door image, the use of social media to make fans feel personally privy to her deliberate dishing and the cultivation of singer-songwriter-style intimacy in the midst of sparkling, scaled-up production — the logical heir to a throne empty since Swift completed her pop crossover. You could see Ballerini testing the power of conversational moments when she worked an acoustic interlude into the middle of her live sets; she'd start talking about a vexing breakup experience, sounding like she was commiserating with friends over brunch, strap on her guitar without missing a beat, weave in excerpts of James Bay, Justin Bieber, and Timbaland hits, then ask the audience to raise their cell-phone flashlights in solidarity as she launched into her strongest and most pensive hit, "Peter Pan."
When Ballerini started working on her follow-up album, she scheduled sessions with a couple of different in-demand producers, Shane McAnally and Luke Laird, but ultimately decided to stick with her home team, the young writer-producers Forest Glen Whitehead and Jason Massey, who'd scored their first hits working with her. The result is Unapologetically, a slyly ambitious song cycle due out November 3. On it, Ballerini situates herself squarely in young adulthood with deft, detailed manipulations of her songwriting perspectives and vocal inflections, and a narrative thread that carries her from withering postmortems of a constricting relationship to reflection on the exciting but unsteadying process of maturation and reckoning with the untrustworthiness of love. She does a good bit of singing at confidingly close range against a backdrop of moody, electronic production that incorporates prickly-precise synths, chilly, propulsive beats, and half-submerged acoustic textures. Sharply crafted, pop-savvy, and conveying a clear sense of artistic identity, it's the sort of work that has the potential to really broaden her audience, and she probably knows it.
Ballerini's promotional campaign is already in full swing. She recently went on network television to share her album's title and release date, and has kept up a steady stream of announcements since (about the cover art's Victorian-esque garden shot; the 12-song track list; preorder options), in addition to sending her fans on an app-enabled scavenger hunt of sorts.
But Ballerini hasn't done an in-depth interview about the album until now. At home in Nashville for a mere 48 hours — some of which she'd spend taking her mom to a John Mayer show — Ballerini is eager to talk, and to get it right.
Early on, you talked about wanting to connect with an age range that spanned young girls and tweens up to older teens and 20-somethings, but you eventually realized that you were attracting the upper end of that spectrum. How did that insight shape your approach to making your second album?
I had to let myself be 23. I think for a while I tried to get back into the headspace that I made my first album in. But not only was I 19, I had never done any of this. I was so naïve. I was so green. I'm not that girl anymore. I had to figure out what insecurities had changed, which ones I had conquered from the last album, which new ones I had, all of that. For me, it was all about making an album that talked about everything that had changed in my life in the last few years. If I can openly and vulnerably talk about that, then the majority of the people that listen to it will identify with probably one of those emotions, whether they're younger or older.
In pop music, there have been loads of examples of what it can look like to transition from teenage perspectives to young adulthood.
Some good, some bad.
Britney Spears spelled it out with "I'm Not a Girl, Not Yet a Woman." Justin Bieber has been making his transition, and so have all the members of One Direction, and Miley Cyrus. The list goes on. There are a lot fewer examples in the country world. Taylor Swift is the primary one. Were there any examples that resonated with you when you thought about making that move yourself?
I think Taylor's done it very gracefully in country. I obviously look to her for a lot. I think the way that she's done it, and I think the way that it works well, is when you make records that are purely you — I think when you're that truthful and honest, people relate to that. I've never been one to want a big dramatic transition, you know? I just think if you write about your life, people are going to see you grow up.
For the second album in a row, you wrote or co-wrote all the material. That's something you've continually emphasized as central to your identity: that you're a songwriter. Why has it been so important to you to not only write, but make sure that people know you write?
I think it was really crucial for me to make this album have more heart in it. I wanted people to listen to this record, and without looking at the credits, know that I wrote every song. That's how personal I wanted it to be. With the first album, especially with the fun, flirty, poppy songs we put out as singles, people maybe didn't get to know me as a songwriter, which is totally cool, because it's just the next chapter for me.
How would you say you used your vocal delivery to convey how your perspective on the world has changed?
[When I made] my first album, I had never done a full-band show before. My voice, all it knew was me and my guitar. I think that over the last two-and-a-half years of touring, I've really gotten to know my voice and know what I can and can't do. I think that I'm just much more comfortable in it now. I found more pockets and more vocal flips and stuff. I found niches that I'm really comfortable with now that I didn't know about before, just because I've gotten the chance to try everything.
The effect is that your singing often feels more confessional and conversational.
The way that we cut vocals — everyone does it differently — but for me, I don't like a perfect vocal. Especially on songs like "Machine Heart" and "In Between," you can hear that I had just gotten off a two-week run and my voice was tired. And you can hear on the days when I just came back from vacation and I had, like, a stronger voice. You can hear where I was at. It's not perfect, but it's emotional and that's music to me. That's what it should be, when you can hear a breath before you say a phrase and it's not [edited] out. I love that. It makes it real. So when we made this album, I did maybe an hour of vocals for each song, and we didn't overthink it.
I can tell that you've come up with different ways to put a song across. "Get Over Yourself" is a great example, with the cool, robotic way you deliver the chorus.
I think another thing was getting really comfortable with having outside influences on this record. I love rap music. I think that country music and rap music are lyrically genius in very different ways, but [both] lyrically clever. I'm obsessed with the patterns and the rhythms of rap. I love that you can have hooks that you have to sing at the top of your lungs for it to really matter, like "Miss Me More." Then I love [how] "Get Over Yourself" [feels like] you just casually say it, because you really don't care. And that's part of the song.
I'm also interested in how the production has changed. That's part of how you're capturing a particular moment too. Do you feel like this album reflects the broody tone that's showing up in a lot of the music your pop and R&B contemporaries are making?
I have so much faith in [collaborators] Forest [Glen Whitehead] and Jason Massey. Forest knows me so well as a songwriter. We write so much together. He has songs on both my albums. …What they do so well is they sonically match the lyric. So "Graveyard" is dark and moody and weird, and that track is dark and moody and weird. "Machine Heart" is empowering, like you're standing up and saying, "It's okay if I cry right now." The track feels like that.
You broadened your circle of co-writers.
I just didn't have the opportunity the first time. I was so new. And I'm thankful for that, because I was able to have this extra pride when it worked like it did, because [I'd made my music] with my friends and we all had our first No. 1 together. This record, I wanted to keep that parallel with Forest, but I also wanted to get in the room with people that inspired me to start writing songs, like Hillary Lindsey and Shane McAnally. Those two specifically I really think helped shape the album. They don't have to co-write, but what they do is help bring something out in the other person that is magical.
When you were an unproven artist working with unproven collaborators, you didn't have access to the A-list songwriters and producers in Nashville. When did those doors open for you?
I don't know. Just gradually, as I started radio tour and my songs were on the radio. I just think the more that I got involved in the community of Nashville and the community of artists and radio, I think that's kind of when that started opening up.
There were a couple of pairs of songs that struck me. The first pair was "Roses," which takes a wistful, nostalgic view of a teenage relationship, and "High School," which criticizes a guy who's trying to live in the past. The other was "I Hate Love Songs," which dismisses romantic clichés, and "Unapologetically," which depicts the irrationality of giving in to love. How do you feel like you captured the contradictions of being where you are in life?
"Roses" is that moment where you decide to look back fondly on a relationship, not to look back in anger or bitterness. You're just like, "We were good for a moment." And "High School" was written about a high-school relationship. It's about when you leave home and you come back and realize how you've changed and they haven't. I feel like a lot of people go through that transition, whether it's moving away to college or moving away to chase your dream in New York. I was the girl in the song. That was a story I wrote that was so real. Making this album chronological was important to me. "I Hate Love Songs" is this quirky way of saying, "I feel myself falling in love with you, but I kinda don't wanna." And then "Unapologetically" is that moment when you're like, "I'm in."
"I Hate Love Songs" has a doo-wop feel, and doo-wop songs were full of bubblegum romance in the '50s and early '60s.
Absolutely!
It's almost like you're saying that there's a familiar language for talking about romance, but it won't cut it for you.
Well, it's saying, "I don't want to be part of the clichés of love, but I love you."
How else does chronology shape the album's story line?
It literally starts with a breakup that I was going through two-and-a-half years ago when I put out my first record, and it's just angsty. I didn't really show that side of myself on the first record at all. There was, like, one sassy song called "XO."
There's a difference between being sassy and being angsty.
That's true. I think it's just self-discovery, that it's okay to be a little bit mad. It's okay to write from that point of view. That was something that I didn't tap into or explore on the first record. The first four songs is that, just angsty, dark, but kind of ending in, "Bye, I'm going to go figure out who I am now." The middle is just settling in to who I am at 23 and knowing that that's going to change tomorrow, but today this is who I am. And then going into that moment where you're like, "I wasn't expecting this, but here it is. Love is how this is gonna end." To put it simply, it's loss, life and love. If you really listen to it as a story, it's chronological. It's how it happened.
Will you be getting married before the album comes out?
No, after.
But people know that you're engaged. You've made that very public. Did you think about how that would affect the kinds of songs people expect to hear coming from you?
It's going to be interesting when this album comes out seeing people pick up on who the songs are about. I don't quite know what to expect honestly.
Well, you are engaged to another artist.
I know. It's cool. Morgan has this really soft harmony on "Unapologetically." I just wanted to have these moments and these textures that added real life to my album. Obviously he's a huge part of it, because he inspired the whole back half of it.
What does the notion of moving country music forward mean to you?
I think you do it when you don't mean to. I don't think you can try intentionally to move a genre forward. I think that if you're true to your art and it works, then it's Shania and it's Taylor and it's Garth. You know what I mean? It's people that just made music that was them. It was just different enough to move the genre forward, but they didn't mean to.
As you've navigated the public sphere, I don't think I've ever heard you complain about anything or speak an ill word about anyone, even if it was justified. Why do you avoid that so consciously?
Because I remember when I was 15, 16, 17 and was in high school and college, trying to get into the music industry and stalking every interview that every chick artist did. And if I ever heard one of them complain, I would've been like, "You can't complain. You're not allowed to. You get to do what I want to do." I don't ever want a girl taking a chemistry class, who wants to be a singer, to read an interview that I do saying that I'm tired. That's not fair.
You've said that you'd like to get to the point where you're headlining arenas.
Yes! With a hydraulic lift.
What is that going to take?
I don't know. But when I do it, I really want to do it right. I don't want to do it too soon and I don't want to do it when I can't do it exactly how it is in my head. So another "Peter Pan" or two?
This interview has been edited and condensed.