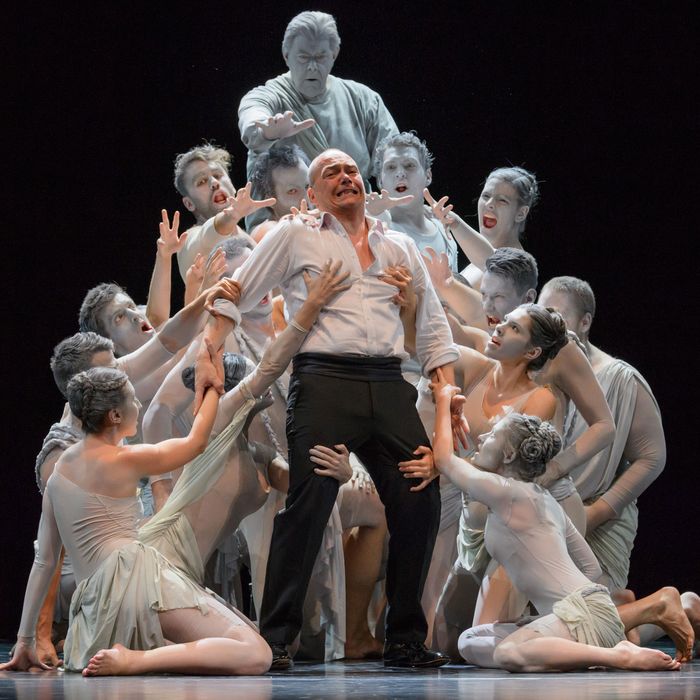 From
Don Giovanni,
at the Mostly Mozart Festival.
Photo: Jane Hobson
Opera is among the more cumbersome arts, usually requiring expensive infrastructure, machinery, and labor on a military scale. But the version of Don Giovanni that Iván Fischer imported to the Mostly Mozart Festival, a tour de force of sexy minimalism, would practically fit in his hand luggage. Aside from a pair of stepped boxes and a plentiful supply of white greasepaint, Fischer uses only Mozart's score, Lorenzo Da Ponte's fierce libretto, and his own corps of multitalented performers to whip up one of the most crackling Don Giovannis I've seen. The conductor also directs, instantly resolving the commonplace conflict between the theater pro, who doesn't quite know what to do with all that music and singing, and the maestro, who would rather the singers stop moving around so much and just get the notes out. Fischer's cast tumbles, dances, fights, and gropes — and every raised eyebrow and rude gesture plays its part in service to the score. And I don't remember when I've heard a more theatrically dynamic performance: basses and cellos swarming demonically, trombones sounding out moral retribution, violins psyching the title character up to some fresh outrage.
Fischer, who has shaped the Budapest Festival Orchestra into an extension of his own personality, exerts such total control over every aspect of the show that he even choreographs the sets. Instead of hiring an army of carpenters, he deploys a team of dancers in white leotards and tunics who arrange themselves into monuments, friezes, window frames, and opulent tables.
Mozart and Da Ponte wrote moving statuary into the opera; Fischer expands the last-act coup de théâtre into a dramaturgical theme that keeps the performance fluid and quick. He uses the original Prague version of the opera, omitting some substitute arias that get thrown in to most performances for the sake of comprehensiveness. This staging allows him to gallop through the score without pausing for ovations or scene changes; instead we slosh back and forth between the animate and the inanimate, between the human and the mythic. Dancers hold their bodies spectacularly still, then dissolve into a posse of villagers. They enact a scene of graphic debauchery, then break into a chorus of moralizing demons. Fischer prefers an ensemble with nimble bodies and teachable voices than a chorus that sounds rich but lumbers around the stage.
That's the only musical compromise he makes. Baritone Christopher Maltman glides lubriciously through the title role, coaxing us to his side with a voice of velvet, muscle, and charm. Real life has given us copious examples of predatory narcissism that would seem preposterously exaggerated on an opera stage. Maltman understates it, which makes him that much more vicious. The rest of the cast is composed of singers we hear too little of in New York: European stars with voices tailored to relatively intimate houses but perhaps not plus-sized enough for the Met. The Portuguese baritone José Fardilha sings Leporello with a nuanced tragicomic snap; Donna Elvira can come off as a pathetic figure, pining and indignant, but British soprano Lucy Crowe gave her genuine lyric tenderness. These singers bring personality and camaraderie to Fischer's tight ensemble; neither he nor they have any patience with the traditional star turns aimed at triggering shouts of Bravo!
The combination of musical intensity and human sets reaches its apotheosis in the near-final scene, in which the statue of the murdered Commendatore demands that Don Giovanni change his ways, and, when he refuses, drags him down to hell. In other iterations, this scene often involves an oversized costume, a trapdoor, and some haunted-house lights, and it rarely works terribly well. Here, the stone man, sung by the splendidly somber Kristinn Sigmundsson, presides over a pyramid of marmoreal figures who suddenly come alive, snake their limbs around the doomed Don's body, and pull him into their midst. The moment is simultaneously funny and horrifying, distilling the competing affects that course through the score. Mozart and Da Ponte described the piece as a dramma giocoso, a hybrid of serious and comic opera, and you could not ask for a more explosive fusion of the dramatic and the playful than this intoxicating production.
Don Giovanni is at Jazz at Lincoln Center's Frederick P. Rose Hall through August 20.