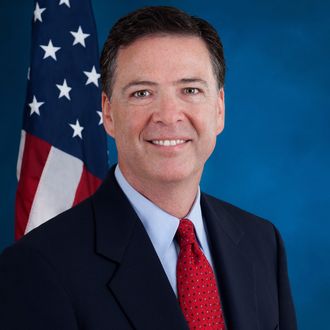 Comey.
Photo: Universal History Archive/UIG via Getty Images
The heads are rolling, and so are the book deals. Hillary Clinton will tell us What Happened in the 2016 election (as if we don't already know), and now former FBI director James Comey is set to pen a book about "good, ethical leadership." The book is currently untitled, but is slated for release next spring, according to the Associated Press. Sources told the AP several publishers bid on the rights to Comey's book, and that the auction topped $2 million. According to Flatiron Books, which will publish Comey's account, the former FBI director will cite "examples from some of the highest-stakes situations in the past two decades of American government" and "share yet-unheard anecdotes from his long and distinguished career." So … tea? Perhaps he'll reflect on that time he tried to hide in the drapes to escape President Trump, or give us the inside scoop about literally anything that came to light during his Senate testimony.
In the event that Comey's book isn't the shady tell-all we deserve, however, we'll have to wait for Sean Spicer or Anthony Scaramucci's inevitable book deals to get real down low. Message to the Mooch: Please write the definitive history of your ten days as communications director, which deserves to be titled Wolf of the White House.