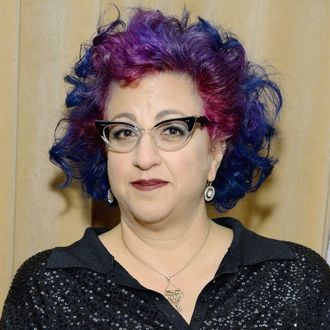 Kohan.
Photo: Michael Kovac/Getty Images for Moet & Chandon
Before the success of Orange Is the New Black and Weeds, Jenji Kohan was a struggling TV writer, writing pilots and getting kicked out of writers rooms. In an extensive profile in The New Yorker, Kohan recalls exactly how sexist some writers rooms were, and how difficult it became to navigate them as a new mother. As she bounced around between several hit shows in the '90s — including Friends, Gilmore Girls, and Sex and the City — she had her share of stories about sexual harassment in the workplace, and being undermined as a woman writer. Per The New Yorker:
Despite Kohan's upbringing, show business wasn't a given. She applied for a job in a writers' room mainly because a boyfriend told her that she couldn't get one. "He said I had more of a chance of getting into Congress than I did of writing for TV!" she said. What followed was a dozen years of stunted ambition and Hollywood sexism. She had her "tit grabbed"; her name was taken off a script. Once, when she was pregnant and about to have a job interview, her agent advised her to wear a big shirt and eat candy, so that the showrunner would think she was just fat. After a pitch meeting for "The Larry Sanders Show," her agent told her that the show's star, Garry Shandling, wasn't comfortable working with women. "I was fired from everything," Kohan said. One boss let her go with "some horrible sports analogy," like " 'You bring in the home run, but we need a team player every day.' " In 2003, CBS picked up her pilot "The Stones," a sitcom about divorced parents, but studio executives didn't trust her, she said, so they put David and his partner in charge. The show lasted six episodes and wrecked the siblings' relationship for years.
Sets run by women were a little easier to navigate, Kohan recalled, but still hard to work on as a parent. Now, Kohan is in charge and the offices of her company Tilted Productions have a nursery with changing tables and toys.