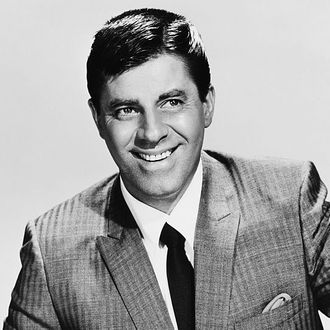 Photo: John Springer Collection/Corbis via Getty Images
Jerry Lewis, one of the most successful and popular American comedians of all time, has died at the age of 91. Per the Las Vegas Review-Journal, the slapstick-loving comedian passed away in his Las Vegas home earlier today following a short illness; his family and publicist confirmed the news. With a career spanning over seven decades, Lewis gained prominence in the 1950s as part of a comedic double-act with fellow entertainer Dean Martin, called Martin and Lewis. Their vaudeville act was so well-liked on variety shows that the duo branched out to a series of motion pictures. When that partnership ended in the late '50s, Lewis embarked on a solo career that encompassed everything from film and music to musicals — many of which he either wrote or directed. He also served as the long-running chair of the Muscular Dystrophy Association.
Many Hollywood figures have expressed their condolences over Lewis's death via social media, noting his iconic status in the comedy world and his philanthropic pursuits.