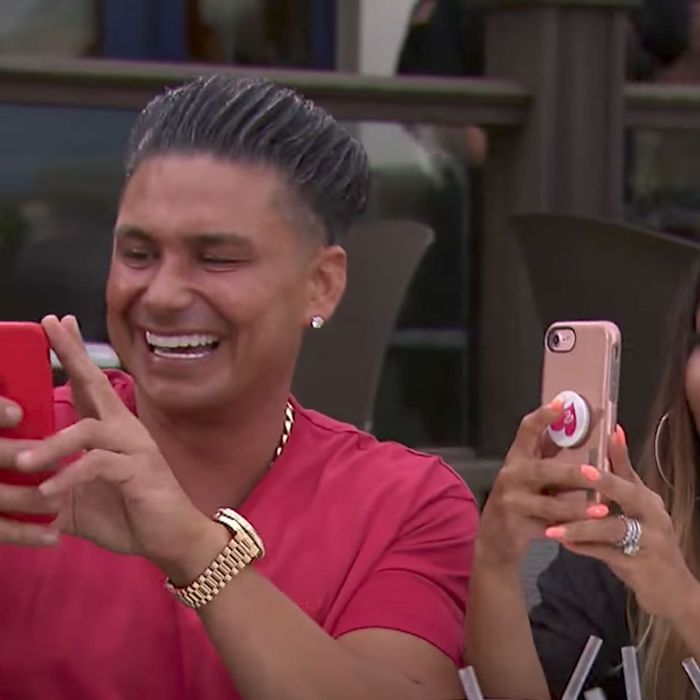 Guidos and guidettes don't die; their spray tans just fade away. E!'s first-ever Reunion Road Trip brings together Jersey Shore stars Nicole "Snooki" Polizzi, Jenni "JWOWW" Farley, Paul "DJ Pauly D" DelVecchio, Sammi "Sweetheart" Giancola, and most important, Mike "the Situation" Sorrentino, who acts as the de facto emcee of Return to the Jersey Shore. (You read that list right: no Vinny, no Ron, no Deena, and no Trash Bags.) This one-off special is a surprisingly candid, funny, and touching half-hour of television that reveals what happens when fist-pumping, binge-drinking gorilla juice heads grow up.
Rumors of a reunion took off after cast members of the original MTV series were spotted shooting together earlier this summer, although it seemed at first that they might have come back together for nothing more than a Burger King ad. (No offense, Burger King ads.) I should mention sooner rather than later that I am an extremely biased reviewer: Jersey Shore was and remains very close to my heart. I'm from New Jersey, which I would probably find some way to announce in this recap even if it were about, I don't know, Game of Thrones. I have said "cabs are here," out loud, at least three times in this calendar year. I once went to a Providence club that was terrible by any metric — except in number of stripper poles per capita — specifically because Rhode Islander Pauly D used to DJ there. (R.I.P., Fish Co.)
The special opens with a Behind the Music feel as Mike — who through the years has also appeared on Dancing With the Stars, Celebrity Big Brother, Marriage Boot Camp, and Worst Cooks in America — recounts how high their highs were over six seasons of Jersey Shore. But life since then, Mike explains frankly, has "not been cool." The abs that launched a thousand ships have been to rehab twice for prescription-drug addiction, and he's currently facing a possible jail sentence on charges of tax evasion. Now, he's 18 months sober. He has a serious girlfriend, Lauren, who was actually his pre-fame college sweetheart. It's been five years since filming ended. That was the last time he saw any of his castmates. Considering that Mike's disastrous entrée into comedy at The Roast of Donald Trump (dear God, we were so young then) is still burned into my cerebrum, he comes off unbelievably well here, self-aware and self-effacing for the first time I can remember.
He first goes to pick up Snooki from her beach house. The self-described former "train wreck" is now a mother of two and the owner of her own perfume and clothing line. As she explains to her 3-year-old daughter — who looks exactly like her, and is roughly the same size — Mr. Situation "took too many candy snacks and he got really mean and cranky." With just Nicole and Mike in the car, it's awkward at first. Her birth-control alarm goes off, but she's confused about what day it is, so she pops out an extra pill by mistake. (I mean, who among us?) "It is the same old Snooki," the Situation observes, as she proceeds to ask him how many women he's slept with (more than a thousand?) and whether he's going to jail. "We were kids. We were so stupid," she says. It isn't long before they're back to feeling like friends again. He pulls out his phone to follow her on Instagram as he drives. "You're still a douche," Snooki tells him. "A good douche."
Up next is Pauly D, who's DJed worldwide in the years since the show aired. He met his girlfriend, Danity Kane alum Aubrey O'Day, on the E! reality dating series Famously Single. (Alas, per People, they've split up.) When Mike and Nicole arrive, he's wearing a massive chain ("You can't wear it past two hours because your neck will hurt") and a robe, under which, of course, there is no need for a shirt. An India flag hanging over his bed goes uncommented-on. The spray tan and hairspray are exactly the same. The only difference is that, now, his laundry gets sent out. Pauly explains that Mike, his one-time BFF, went down a "dark path." His friends had no choice but to "distance" themselves. Fortunately, that's changing.
The trio is off to pick up Jenni, now editor-in-chief of Miss Domesticated and a mother of two. She's in "girl-boss mode" on the set of a video about "drunk people making lube," which genuinely sounds like a lost plot point from a Jersey Shore episode. (By the way, if you're already going down this Jersey Shore nostalgia road, then I strongly suggest you open your heart to all four seasons of Snooki & JWoww.) Snooki writes, "Honk if you GTL" — the holy trinity that is "gym, tan, laundry" — on the rear window in marker, a message that all the cast members then forget is there, assuming that all the drivers around them have been mysteriously overtaken by road rage.
The original plan for the road trip was to revisit their old stomping grounds in Seaside Heights, but the borough wouldn't allow it. That might have something to do with, I don't know, all the arrests, fights, and incidents of public urination? Only Jenkinson's in Point Pleasant would have them back. "I'm pretty sure I peed on the floor at Jenks," JWoww tells the camera. "I just don't know if they realize I did or not." Sammi meets them there. She looks exactly the same, like they added her to Reunion Road Trip via SeinfeldVision technology. She's 30, in a new relationship, hosting a podcast, and seemingly doing well. Though everyone wants very, very badly to know, only Mike has the guts to ask her if she and Ronnie are still friends. "He's not my favorite person," she says. "That door is closed and will remain shut for a long time."
Over dinner and drinks, they chat about their Botox (that includes Mike) and boob jobs (that includes Sammi, who once memorably disparaged JWoww's), the times they punched one another in the face, and who among their castmates they'd still like to smush. When in doubt, assume that everyone on Jersey Shore smushed everyone else on Jersey Shore. Pauly reflects on his sexual heyday: "They film 24/7, so all the hookups were on tape. What did they do with that footage? I want it." Sammi reveals that the producers would play them earlier episodes, which were airing as they filmed the next season, to get them riled up to fight. Mike models a neck brace to pay homage to the "darkest moment in [his] Jersey Shore career" — when, during a fight with Ronnie in Italy, he smashed his own head against a wall and ended up with a concussion and a sprained neck. Everyone but Mike takes a shot to toast his sobriety. Well, they meant well.
We're told the Situation's court case will be resolved soon. He's optimistic, he says, but he wanted to be sure he seized the opportunity to reconnect and make amends with his old friends while he still could. As Snooki gravely puts it, "Jail is like … jail."
To end the night, the Jersey Shore gang hits the boardwalk to pose for selfies with passersby. It's obvious that people still love this dumb show — and watching these five together, goofing around and genuinely enjoying each other's company, it's easy to remember why.