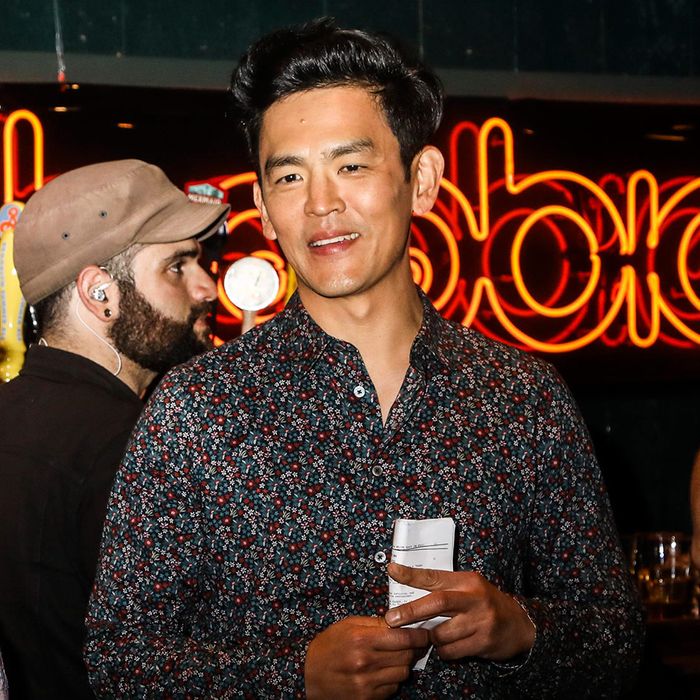 John Cho at Boobies.
Photo: Krista Schlueter/Vulture
"Boobies!" John Cho shakes his head and chuckles as he walks past a neon orange sign that reads, well, boobies. He has just arrived at Bounce Sporting Club, a sports bar in the Flatiron District that has been turned into a "Boobies" – Difficult People's version of Hooters. The monitors mounted above the bar are playing fake sports footage on loop as extras cluster in groups off to the side: men in sweaters and button-downs and women in Boobies-brand tank tops, cutoffs, and shin-high soccer socks. "I'm having too much fun right now," he laughs.
It's Cho's second day on the set of Difficult People's third season, where he's doing a five-episode guest arc (the first of which airs today) as Todd, Billy's (Billy Eichner) first-ever, real-life boyfriend. In the episode they're shooting, Todd and Billy are officially an item, and Todd invites Billy to a going-away party for his colleague at Boobies. "The show is so fucking funny," says Cho. "There's a certain style I wanted to honor. It's fast, it's honest, but it is elevated, and reminds me of romantic comedies of the '30s. It's very snappy and literate."
Like Billy and Julie (Julie Klausner), Todd isn't exactly a people person. In his first appearance on the episode "Rabbitversary," we see that he's an aggressive, cynical advertising executive who uses one of Billy's head shots in a PSA against circumcision. When Billy asks him to take it down, he refuses. "We knew we wanted somebody who was as much of an asshole as Billy and Julie, but from a different world," said Klausner, the creator and star of the show. "There are different douchebags in advertising than there are in entertainment."
Billy and Todd get into a flame war, each trying to one-up the other before they both run into each other on the street, ready to prank the other. "They start out-hating and Facebook stalking and digitally ruining each other's lives," said Cho. "In the twist of the meet-cute, they run into each other each holding a bag of Ku Klux Klan material with Trump-Pence stickers that they were going to plant in each other's workplaces. They end up making out." He laughs, adding, "We meet, argue, and sparks fly."
When it came time to cast Todd, everyone was unanimous: It had to be John Cho. "I take partial credit for the idea," says Eichner. "We have the same manager, and it was right after the Oscars. John was really funny presenting, and my manager said, 'What about John Cho?' I swear, while I was watching the Oscars, I thought, John Cho would be so great on Difficult People." The show was casting around the Oscars earlier this year, and "he was in everyone's mind. He's just so funny," says showrunner Scott King. "I don't think I'm allowed to say it, because I'm the showrunner, but he's so gorgeous also. My god, he's so gorgeous. There's no one else."
Even though Cho and Eichner are already shooting their characters' dating milestones, they had yet to film a pivotal moment from their meet-cute episode: the kiss. Shooting out of order and working up to the kiss though has allowed the two of them to work into their chemistry, especially considering the first time that Cho and Eichner ever met was on set. "I feel like there's going to be a stepladder involved," says Cho. "And he's scruffy. My first stage kiss was a dude and that's what I remember — all the scruff. I was like, 'Women like this? I would demand a shaving.'"
But Cho is already being territorial about being Billy's man: The two actors met on set the day prior when it just so happened that another friend of the show, and former Billy boo, Seth Meyers ran into them. "We were filming near 30 Rock where Seth Meyers tapes his show and Seth jogged by," Eichner recalls, "and then John got out of the car and we all had a moment together."
"Seth was on the first season and said, 'Billy's mine.' I think Seth gave him a hand job in the park in that episode, so I felt like he's mine," Cho says, shrugging. First boyfriend definitely trumps a hand job at the dog park.