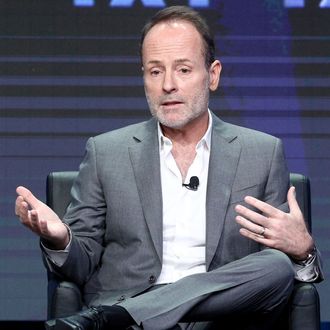 Photo: Frederick M. Brown/Getty Images
The TV apocalypse is nigh. FX CEO John Landgraf, who coined the phrase Peak TV, told journalists on Wednesday during his Television Critics Association executive session what's been obvious for some time: A "profound shift" is coming to the television business, and we are "heading from an optimal number of shows to an unmanageable number of shows." There are 342 scripted shows that have aired so far this year, up from the 325 that have aired since last year (last year's grand total was 455). More important: Landgraf explained that the streaming services, which have historically been more willing to embrace full projects than their more cautious cable brethren, have announced 79 series — not pilots — that have yet to make it to air this year. And this is all before anything happens with Apple TV's scripted-programming plans.
Earlier this week, it was announced that FX is partnering with Comcast on FX+, a streaming service that will launch September 5. As Landgraf acknowledges, this came out of a need for FX's entire catalogue of original programming to "be available to all viewers at all times." And while he doesn't think the "average home is going to have 20 streaming services," he does think that this predicament is "something that's part of a much larger theme in America."
"In my opinion, if we want to understand the roots of underemployment and the stagnant wage growth as a foot in the U.S. economy that underpins today's uncertainty and anger and political polarization, we should look no further than the lack of market regulations," he says. "That has allowed one sector of our economy after another to get swallowed up by a single company or a tiny handful of giant oligarchs."
The upside to all of this? Landgraf says it's a great time for the creative side of the industry.
"Wait for the epic, titanic battle for talent," he says. "Because there are going to be offers heading their way."