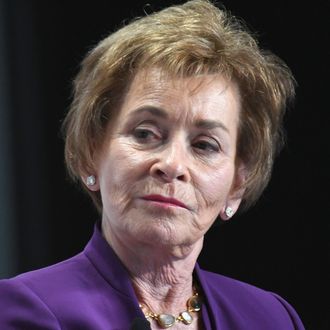 Boss.
Photo: Gary Gershoff/WireImage
Though Judy Sheindlin has made her career wielding the gavel, let it be known that the television courtroom queen also knows how to give great testimony. While weighing in on a legal dispute between CBS and Hollywood talent agency Rebel Entertainment Partners over disputed profits from Judge Judy, the reality show's star revealed just how much power she has with the network.
The contract lawsuit boils down to Rebel accusing CBS of withholding money owed to the talent agency through unfair accounting. Rebel receives 5 percent of the show's net profits, but the company is complaining those profits are slim because it only receives the percentage after Sheindlin's massive $40-plus million annual payday. CBS, however, argues that Rebel played no part in the creation or development of the show, and has already collected $20 million because it represents three producers who were connected to the show early on. The network also claims that Rebel has no contractual right to challenge the show's budget costs.
As for the judge, she knows she's worth every penny.
Sheindlin explained in her videotaped testimony that Richard Lawrence, president of Rebel Entertainment Partners, should be happy with the money he's already received. "CBS had no choice but to pay me what I wanted, because otherwise I could take it wherever I wanted to take it, or do it myself," she said in a transcript obtained by The Hollywood Reporter.
"Mr. Lawrence should actually be kissing this right in Macy's window, because my contract with CBS for more than a decade now does not include a last look which means the following," she explained. "Which means they can't match another offer, which means I can produce this show myself for decades." Sheindlin added that she could make an additional $20 million if she produced the show herself, but she doesn't because, "How much can you eat?"
The judge then detailed her annual salary discussion with the CBS president, which always includes dinner at the Grill at the Alley and handing her boss (we use that term lightly) an envelope with what she wants, including her salary and any other demands for the crew and production. She added, "I hand him the envelope and I say, 'Don't read it now, let's have a nice dinner. Call me tomorrow. You want it, fine. Otherwise, I'll produce it myself.' That's the negotiation."
And that's how you become one of the highest-paid television personalities ever.