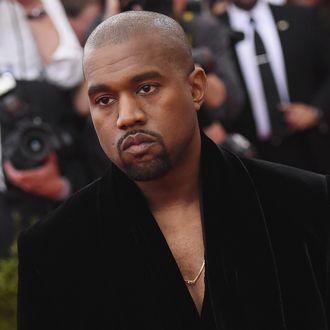 West.
Photo: Mike Coppola/Getty Images
According to Kanye West, there are people out there who owe Kanye West some serious money. He left the streaming service Tidal last month, alleging that the company owed him around $3 million for new subscribers he brought to the service thanks to Life of Pablo. Now, The Hollywood Reporter says it has obtained a $10 million lawsuit against the insurer Lloyd's of London for its failure to compensate the star after his most recent tour was cancelled. The complaint filed with the Los Angeles Superior Court says that, despite a loss claim being filed just days after West checked into a psychiatric-care facility last November, Lloyd's has not provided "anything approaching a coherent explanation about why they have not paid, or any indication if they will ever pay or even make a coverage decision, implying that Kanye's use of marijuana may provide them with a basis to deny the claim and retain the hundreds of thousands of dollars in insurance premiums paid by Very Good."
The suit also alleges that Lloyd's immediately started angling for ways not to pay out the claim as soon as it was filed, putting a lawyer in place to supervise it — and trying to find loopholes — instead of an insurance adjuster. At the heart of it, West's legal team is asserting that the insurer is denying the legitimacy of West's medical emergency and subsequent inability to tour, instead handling the loss claim as though he elected to back out of finishing his scheduled dates. This is despite West's having undergone medical examination, according to the language in the lawsuit.
"Kanye was made available for a purported [independent medical examination] by a doctor, hand-selected by the insurers' counsel, who was predisposed to look for some reason to deny the claim. Yet even Defendants' selected doctor had to admit that Kanye was disabled from being able to continue with the Tour. As demanded by the insurers, Kanye was also subsequently presented for an examination under oath ('EUO'), and at least eleven other persons affiliated with Kanye and Very Good were similarly presented for EUOs."
Perhaps most insidious, West's team is also claiming that Lloyd's even leaked private information about him to the press to in order to "impair Plaintiff's rights to the indemnity payments due under the Insurance Policies." From the outside, it continues to seem like a rough time to be Kanye West.