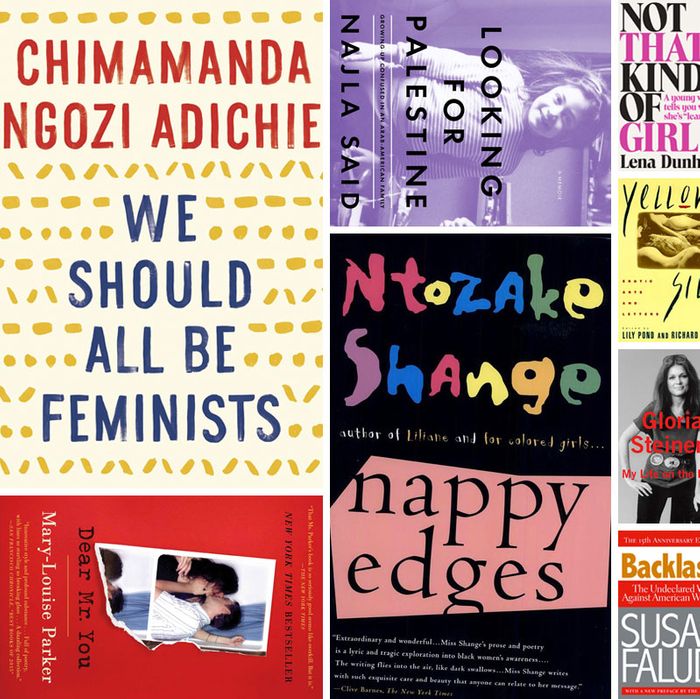 Bookseller One Grand Books has asked literary celebrities to name the ten titles they'd take to a desert island, and they've shared the results with Vulture. Below is actress Kathy Najimy's list.
She's Come Undone, by Wally Lamb
The first and only fan letter I wrote to an author (other than to Gloria Steinem) was to Wally Lamb. It started with, "How can a man have written this book?" I bathed in Wally Lamb's creation of a flawed but fascinating heroine teen girl who morphs into a sometimes misled, powerful, and flawed adult woman. Her life's adventures and choices, both positive and positively horrid, still touch me on my third, fourth, and fifth reads of this novel. (I loved it so much I voiced the book on tape.)
Nappy Edges, by Ntozake Shange
I discovered this book of poetry in 1978 and carried it in my purse (pages dog-eared) for over ten years. It hasn't been easy to find the 40 copies I've gifted to just about every young woman I've met. It includes pieces and poems of race, love, loneliness, and violence against women, and the very being of women, written from Ntozakes's very heart-filled and heartbreaking clear view of her body, her life, and the world. The entries "No Gust of Wind" and "Every 3 Minutes" = Bible.
My Life on the Road, by Gloria Steinem
What is an activist icon made of? What is the path from a young girl in East Toledo to one of the most revered and powerful voices of women's freedom and equality? All of Steinem's books are a deep and moving road map to the core of who she is. For those who might think an activist-leader is a being who has always had a singular purpose and journey, think again and read Steinem's "My Life on the Road." Steinem's "Outrageous Acts and Everyday Rebellions," (slipped to me by Carole Perkins, my Women's Studies teacher) and "My Life on the Road," have been my lighthouse.
Not That Kind of Girl, by Lena Dunham
Whimsical, original, hilarious, brave, and addicting. At any moment, I can pick up the book, turn to any chapter (even ones I've already read) and be transported by the funny, fun, feminist filmmaker-writer. I reread her adventures and reexperience them. Delightful and surprising, she bares her soul as freely as she bares her body, and I'm transported back to my wild and woolly childhood, teenhood, and womanhood aches and thrills.
Looking for Palestine: Growing Up Confused in an Arab-American Family, by Najla Said
I found this book interesting, uncomfortably informative, addictive, and necessary. "Looking for Palestine" is a memoir/coming-of-age story by the young Najla Said, an actress, writer, and daughter of the brilliant Edward Said (a Columbia professor and prominent advocate of Palestine independence), and Mariam Said (artist, writer, and activist). I've seen Najla's play of the same name, but her book took me even further into this young New Yorker's quest to make some sense of all of her worlds. If your goal is to be immersed and moved, this is it.
Dear Mr. You, by Mary-Louise Parker
An extraordinary memoir by an extraordinary woman. Each chapter is composed to the men (real and imagined) in her life who feel at once brilliantly mythical, and painfully earthbound. There are letters to former lovers, briefly encountered heroes, fictional paramours, and family members, and like with Lena Dunham's book, I'll shuffle through and reread to laugh and weep as if it were at first time.
We Should All Be Feminists, by Chimamanda Ngozi Adichie
Another staple. The smallest book ever, with the most powerful, true story. Real, human, authentic. I love this book. Nothing humanizes and brings to light the misinterpreted politics of feminism like this author's simple, heart-bursting story.
Backlash: The Undeclared War Against American Women, by Susan Faludi
I remember reading the hardback first edition of "Backlash" (a feminist classic) in the backseat of a friend's Buick on the way home from a particularly wild Catskills trip, simultaneously swallowing Doritos and my rage and sadness at the reality of anti-feminist backlash. Faludi has published an updated version — especially relevant in our new Trump America — just as interesting, motivating, and rage-inducing as the first. This book hurts, but it moves us forward. "Backlash" continues to be an informative wake up call for women of my and my daughter Samia's generation.
Yellow Silk: Erotic Arts and Letters, edited by Lily Pond and Richard Russo
This was a gift, and I've passed it on and on. There seems to be much confusion over feminism and how it relates to sexual freedom and erotica. WHAT?? Check out the liberated women of the '60s and '70s who were all about their bodies, choice, freedom, and sex! This is superb, erotic literature and artwork for both women and men. It is an unabashedly joyful celebration of human sexuality in all its diversity. The artwork is beautiful and the poems and text a gorgeous compilation of sex with all the excitement — but without the mistreatment and objectification of women. A luxurious erotica alternative.
Tales of the City, by Armistead Maupin
 I discovered this series at a small gay bookstore when I was living above a hardware store in San Diego in the '80s. I read the first book in 24 hours straight, no sleep. Then I devoured every other novel in the series — all of them — in one day each. If I had to Sophie's Choice pick only a couple, I would say the first novel and Babycakes, topped only by Maybe the Moon, his unrelated tome.