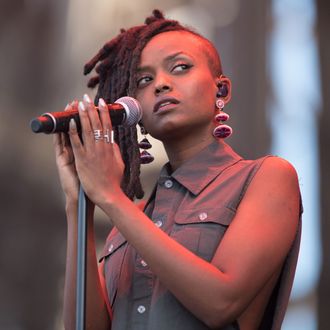 Kelela's supplying all your new Tinder lines.
Photo: ALICE CHICHE/AFP/Getty Images
Artists, guard your Song of the Summer contenders close: Kelela did not come to play. The sultry R&B singer will return at some point this year with her long-time-coming debut album Take Me Apart. (Its cover alone rendered Solange unconscious.) For its first tease, she's debuted new song "LMK," a scorching, assertive monster bop that has Kelela dictating the rules and logistics of a situationship. Come through late at night, give her rounds, then see yourself out. "It ain't that deep, by the way," she sings for your new Tinder bio. Call it savage, but at least she's transparent. Things might not be serious with the object of Kelela's lust, but this is one helluva serious return.