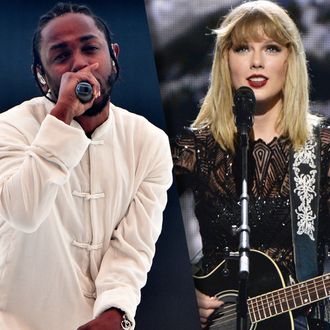 In a new revealing Rolling Stone conversation with Kendrick Lamar, the rapper has finally weighed in on the greatest beef of the century. Asked if he knew what he was getting himself into when he jumped on the remix to Taylor Swift's "Bad Blood," which has long been rumored to be about Katy Perry, Kendrick pleads total ignorance. "No, I wasn't aware of that, bro. That's a great question. No! On the record, no. Which makes it even more funny now, for sure. That's far beyond my concern," he swears, referring to the Taylor-Katy feud that won't die. And now that he knows, he's positively shook: "I have to stay away from that, for sure. That's some real beef [laughs]."
But there's no sidestepping his even realer beef with Drake. Kendrick spends much of the interview shading his current adversary, once again taking swipes at Drake's authenticity over accusations of his use of a ghostwriter. "I called myself the best rapper. I cannot call myself the best rapper if I have a ghostwriter. If you're saying you're a different type of artist and you don't really care about the art form of being the best rapper, then so be it. Make great music. But the title, it won't be there," he says, giving his mentor Dr. Dre a pass in the process. In the last year, both Drake and Kendrick scored their first No. 1 songs as lead artist, but in Kendrick's eyes, it's only compromised one of them: "It gets tricky because you can have that one big record, but you can still have that integrity at the same time. Not many can do it … wink-wink [laughs]."
Eventually, interviewer Brian Hiatt decides to ask Kendrick directly for his opinion on Drake instead of allowing him to dance around the subject. His strategy? Find out if Kendrick likes Drake without actually asking the question:
What's your favorite Drake song?

Favorite Drake song [chuckles]. I got a lot of favorite Drake songs. Can't name one off the back. … He has plenty.




Do you prefer him singing or rapping?

Both. Yeah.
Coincidentally, Drake announced just this week at OVO Fest that he's working on his next album. Anticipate his response in 3 … 2 … 1 …