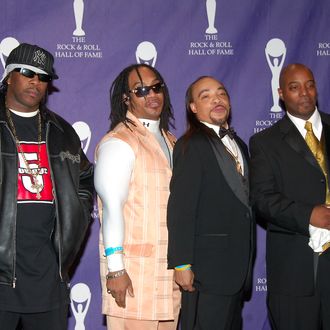 Grandmaster Flash and the Furious Five members Scorpio, Mele Mel, Kidd Creole and Rahiem.
Photo: Michael Loccisano/Getty Images
Nathaniel "Kidd Creole" Glover, a founding member of the iconic hip-hop group Grandmaster Flash and The Furious Five, was charged on Wednesday for fatally stabbing a homeless man in New York City, the New York Times reports. Police say that Glover got in an argument with the other man late Tuesday night in Midtown Manhattan and proceeded to repeatedly stab the man in the torso. Detectives identified Glover through surveillance cameras and arrested him the following evening, charging him with second-degree murder.
Joseph Saddler (a.k.a. Grandmaster Flash), Robert Keith "Keef Cowboy" Wiggins, Nathaniel Glover, and his brother, Melvin "Melle Mel" Glover, first teamed up in the mid 1970s. Considered to be one of the first rap groups, their work together influenced hip-hop for decades. In 2007, Grandmaster Flash and The Furious Five were inducted into the Rock & Roll Hall of Fame.
Update August 4: According to the New York Times, Nathaniel "Kidd Creole" Glover allegedly stabbed the homeless man — identified by police as John Jolly — after he thought Jolly was hitting on him. Assistant District Attorney Mark Dahl outlined the interaction in court:
Mr. Glover walked past Mr. Jolly, who said: "What's up?"




Mr. Dahl said that Mr. Glover said he had taken the statement as an indication that Mr. Jolly believed he was gay and was making an aggressive pass at him. Mr. Dahl said that Mr. Glover had claimed that the statement was delivered in a threatening fashion.
Glover is due back in court on August 8.