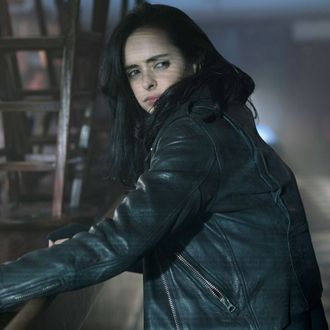 Krysten Knitter.
Photo: Sarah Shatz/Netflix
There's no rest for a Marvel Netflix actor. First you're doing your solo series, then you're doing team-up series, then you're back to the solo; wash, rinse, beat up bad guys, repeat. How does a person remain healthy throughout all that? At a recent press day for The Defenders, out Friday on Netflix, Vulture caught up with Krysten Ritter to talk coping strategies for a year straight of shooting both that show and season two of Jessica Jones. She didn't quite have one when she did the first season, but now, she's developed a survival plan that involves juice, knitting, and Game of Thrones:
I'm, like, just past the midway mark on Jessica Jones season two and they keep throwing stuff at me and it's very dark and it's very heavy. I think I've approached this season differently, because I've done The Defenders, went home, took a shower, came back, and started Jessica Jones season two. So I'm working about ten months? Which is what you do for the part. So it's hardcore. I have the luxury of having gone through it once already, so I know how hard this is. I approached this working cycle more like an athlete. I had, like, the special green juices and the special food. I still eat the pizza and all the stuff. We all know it. The sandwiches the size of my head.




What I'm doing is making sure that I have a balance, and that allows me, I think, to be a better actor and to more easily and quickly access all of the emotions on the scale. I make sure that I read a book on the weekend or read something or do my knitting or do the things that I need to do for myself, like Game of Thrones. Get that balance. Because in season one, I was so in it – gung-ho, whole body, all I got. Then it got really dark for me. So I'm like, okay, how do I maintain this production schedule for 12 months straight? Which is something I've never even heard of. How am I actually going to fucking do it? So I do it with a real system in place. That's what I've learned.
So there you have it: When you're about to embark on your 12-month TV shoot, make sure you've got your knitting needles ready.