Spoilers for Brigsby Bear ahead.

Kyle Mooney would like to go to the mirror maze, please. Saturday Night Live's most endearingly weird cast member is strolling around central Philadelphia, killing time before doing a comedy show to promote his endearingly weird new movie Brigsby Bear (about a 25-year-old superfan of a children's TV show starring an animatronic bear; more on this later), when he stops in his tracks. There, hanging from the pillars of the Franklin Institute Science Museum is a banner for a 1,700-square-foot "Numbers in Nature" labyrinth filled with psychedelic shapes, reflective surfaces, and LED lights — and it's calling to him harder than a stranger in a van shaking a bag of candy.
"That looks rad. It looks like it's from the future. Let's do it!" says Mooney, bounding up the museum's steps, only to hesitate at the door. "I'm nervous that I won't be able to find my way out," he confesses. See, the last time Mooney was in a mirror maze was a decade ago at the San Diego County Fair, and he's feeling rusty. But I'll be with him, I say. If we get lost, we get lost together. "We could create some sort of world of our own in the mirror maze," he says, letting the scenario gel in his head. He gives the nod. We proceed.
Part of what makes Mooney such a lovable cult-comedy figure is how guileless he seems to be. He's the 32-year-old, shaggy-haired, five-foot-seven, stubble-faced version of Tom Hanks in Big: a grown-up who miraculously seems to have skipped the growing up part. This is probably why he's so perfect as James, Brigsby Bear's protagonist, who grew up extremely sheltered and is now doing things like attending his first house party. (Offered a beer, he replies, "I'll have one of that!") Today, Mooney is wearing his favorite vintage Reebok high-tops, with a pump in the shape of a tennis ball. Just before we enter the maze, he gets into an unspoken battle with a 6-year-old boy at a display table where you spin discs and science facts pop up. "I don't want to get in trouble, but I promise I can spin faster than that kid," Mooney whispers to me.
None of this is an act, at least according to people who know him well. "When I met him in person, what I was struck by is how earnest and nice he is," says Kate Lyn Sheil, who plays the longtime crush of Mooney's character in Brigsby, and who first got to know Mooney as cross-country pen pals. "He's very much a real person first, and a very skilled comedian second." She mentions the vintage Alf sweatshirt that is his favorite item of clothing in the world; his carefully curated VHS collection of children's shows; and how every time he does karaoke, he commits hard and often winds up shirtless. "It all comes from a genuine place," she says. "It's not like he's trying to look cool or he's doing something ironically. Those are his interests."
Right now, his interest is getting into this mirror maze, though he does pause for one adult moment to let our 6-year-old friend and his family explore unfettered. "I don't want our journey to influence theirs," he says. The rest of the time he's racing through, a big grin on his face, until we've plopped out the other side. "I'm dizzy," he declares. "Are you dizzy?"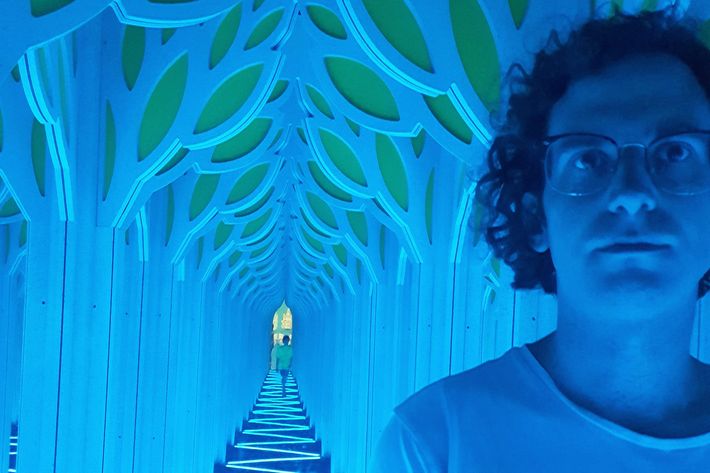 That vibe of unaffectedness infuses all of Mooney's comedy, but particularly the viral videos he's been making for years with his comedy troupe, Good Neighbor, all of whom now work at SNL: Beck Bennett, a.k.a. shirtless Vladimir Putin, is a cast member; Nick Rutherford is a writer; and Dave McCary directs everything they do, including Brigsby Bear — the first feature film any of them have made top-to-bottom. Mooney met Bennett and Rutherford in a kind of improv fraternity at USC, and McCary has been his best friend since sixth grade. They're also, essentially, the guys who took over making SNL's digital shorts from the Lonely Island — though don't go imagining bad blood; Andy Samberg, Jorma Taccone, and Akiva Schaffer are producers on Brigsby, along with the dynamic, Han Solo–ousted duo of Phil Lord and Christopher Miller.
At a time when so much of comedy is centered on outrage and satire, Mooney and Good Neighbor seem more interested in celebrating enthusiasm and the idea that trying hard, however ineptly, is a noble act. Samberg's favorite of their videos is probably 2011's "toast," a found-footage-style YouTube clip of an absurd, extensive ritual three buddies do — including multiple chants and conjuring up their ex-girlfriends — before going out for the night.
"That's one of the funniest, coolest things I've maybe ever seen in comedy," says Samberg. "Like, 'What the fuck is this?'" The appeal, he thinks, lies in Mooney's ability to capture a type of dude who's been underrepresented in pop culture, but is probably a prime consumer of it. "Kyle has that SoCal vibe down so well," says Samberg, "of just guys that are not at all confident, but they're all speaking in the language of confidence and too cool to say actual words. He's so good at speaking in half sentences." That "Toast" video is so beloved (2.4 million views) that when Mooney and Rutherford forgot the words while trying to reprise it at the Philly comedy show later that night, the entire theater started reciting it from memory.
I'm partial to "Lakers Champions" from 2009, the first in a series Mooney has done as a socially inept aspiring reporter who shows up to big games, parades, reptile expos, you name it, looking for players named "Colby Bryant" and asking hard-hitting questions like, "Tell me: The Lakers did it, what are we gonna do?" (The real Mooney has a more legit sports history. "You may have heard about the time in National Junior Basketball when I was playing for the red team and I scored 23 points," he brags.)
The pinnacle of the series is probably the recent one he did with Justin Bieber fans, which wound up, like so many of Mooney's bits these days, on SNL's "Cut for Time" web extras. He calls the singer "the handsome devil who came down from heaven to make some great songs and to dance forever," and then interviews a woman he mistakes for the Biebs.
Nothing he and the gang have done so far, though, is anywhere as ambitious as the surprisingly touching Brigsby Bear, with its handmade props, hi-fi camerawork, and length, of, like, 30 Good Neighbor videos back-to-back. It was a sleeper hit at the Sundance Film Festival, where Sony Pictures Classics bought it for $5 million, and, more surprising, was given the prestigious closing night slot of the Critics' Week selection in Cannes — meaning the French consider it high art. Reviews have been very positive.
This is Mooney's passion project, and it shows. He came up with the idea six years ago, about a grown man who is Star Wars–level obsessed with a bizarre, cable-access-level show starring a space-traveling animatronic bear. But it turns out he's the only person who's ever seen it, and it was made for him by his parents. And then what if all that was taken away from him? Mooney enlisted another middle-school friend, Kevin Costello, to help out with the screenplay, and together they worked out that Mooney's character, James, spoiler alert, had been kidnapped at a young age by apocalyptic survivalists (Jane Adams and, in a genius casting move, Mark Hamill, who really does do all of the voices for the fake show within the show), who'd raised him in a bunker and used the Brigsby videos as a form of brainwashing.
The youngest of three boys, Mooney is well-versed in nostalgia. "I was always a fan of something," he says. "I'd get all my brothers' action figures, like Star Wars and Transformers, as hand-me-downs, but I was always obsessed with them." By age 6 he was already a collector: baseball cards, yo-yos, He-Man. Then came cartoons like Thundercats, Transformers, Centurion. ("Visionaries!") He'd re-rent them at Blockbuster constantly. In college, he would trove thrift stores for VHS tapes of long-forgotten children's shows and then curate clips of them for his friends. Influences for Brigsby include Chuck E. Cheese's; a live-action Teddy Ruxpin special; a 1980s live-action Winnie the Pooh Disney show called Welcome to Pooh Corner; and a children's religious show called Prayer Bear. He actually thought of Hamill to play James's kidnapper dad not because of the Luke Skywalker connection, but because he loved his voice-over work as the Joker on Batman: The Animated Series. (Though he did indeed nerd out with him about Star Wars, too.)
Of course, once James is rescued, the Brigsby Bear Adventures episodes that used to arrive every week on VHS like clockwork stop, and he has to do the tough work of figuring out who he is without them — with the help of new friends like the kindly detective on his case (Greg Kinnear), and in spite of adults who just don't understand, like his misguided psychologist (Claire Danes). People will inevitably draw comparisons with Room and Unbreakable Kimmy Schmidt, but Mooney's worldview isn't nearly that sad or arch. "I was shocked by how sweet it is," says Samberg. "Like, 'How did they make me care about this?' It's the weirdest thing, and now I'm like, 'Man, people shouldn't give up on their creative dreams! We should all keep that childlike wonder and love art!'"
"We love you on SNL!" a cute mom squeals. We're now in the portion of the Science Museum called Your Brain, where kids climb a jungle gym to learn about neural pathways. Mooney can't go anywhere in Philly without getting recognized, for some reason. (His fans tend to be young white dudes, and they often want to perform his own characters back to him.) He got stopped five times within the first two hours he'd touched down the night before, and once he'd posted word of the comedy show on his social media, tickets sold out in an hour.
Growing up in San Diego with divorced parents — his dad worked in city planning and his mom was a newspaper reporter — Mooney developed a reputation for being funny as early as fifth grade. He and his collaborator, McCary, were rival class clowns, but they didn't become friends until they shared a carpool the next year, "and I really got to see how much more advanced his comedy skills were," says McCary. "It was just so clearly like, 'Okay, you're kind of on another level.'"
They did their first video freshman year of high school for an English assignment. It was a parody of MTV's Fanatic, with McCary filming the moment Mooney got to meet his idol, Odysseus. ("I'm surprised you haven't heard of it," says Mooney.) Mooney's real dream, though, was music, and in high school, he and McCary formed a hip-hop group called Instruments of Intelligence with their other buddy Robert (the one person of color in the gang). "It's kind of an apocryphal story," Sheil tells me. "He collected all of these scratch records and he's a pretty talented producer, and then he went to college and his freshman year, his dad's house burnt down with his record collection in it." It was the same week he auditioned for the USC improv group, where he met Bennett and Rutherford; it was as if the gods had spoken. This may be hard to believe, but Mooney is telling his real story when he talks about his hip-hop dreams deferred in a documentary-style SNL digital short in which he challenges Kanye West to a hilariously mismatched backstage rap battle. (Sample rhyme: "Kanye West, you need a mint for your Kanye breath.")
"We were pretty much at the ground level of YouTube," says Mooney. "Like, probably within a year of its existence, we were uploading videos to it. But even then you could tell there were these bizarre worlds within it" — so many sincere kids desperate to be discovered. Back then, Mooney would spend entire weekends coming up with search terms to unlock what he calls "the treasure trove of unseen people" on YouTube, which he'd then mine for characters. "I loved, and I still love, finding videos of kids in the middle of the country who maybe have no views," he says. "They have, like, 15 views on their video or something like that, but they still act like they're a massive YouTube star, so every video is like, 'Hey guys! Sorry I haven't made a video in a while.'"
The common theme of Mooney's characters seems to be people who are lying to themselves about how confident they are or how much they know: the SoCal bros hosting their own public access show, like a deadpan Wayne's World; puny high-schooler Chris Fitzpatrick bragging about his fighting skills. What makes the portrayals special is the total lack of judgment — it's not like the Good Neighbor guys were doing much better than their subjects. "Kyle and I were sharing a room, like, way too late into our 20s," McCary says. "Two twin mattresses on the floor, just not even trying to evolve."
This was even after their videos were getting a million views each. "That was the grind," says Mooney. "There wasn't a lot of money to be made just uploading videos to YouTube."
Then, five seasons ago, SNL called. Mooney had 72 hours to come up with six new characters, one of whom was terrible veteran comic Bruce Chandling, now a staple of "Weekend Update." (This was actually his second audition in two years.) Lorne Michaels tapped him and Bennett and asked them to bring McCary with them to direct digital shorts. Rutherford joined the writing staff the next year. At the time, in 2013, Good Neighbor had been in the process of signing a pilot contract for their own show with Comedy Central, and SNL didn't always feel like the right choice. Mooney and Bennett were among five new white-guy cast members the show had hired, to much outcry in the media, and they still felt like they were constantly auditioning. "They weren't sure, that's why they hired so many guys," says Bennett. "And that's why it was such a hard first year, because you could tell they weren't sure about us." Bennett and Mooney were the only two guys from that crop to make it to a second year.
Other than the Kanye video, their best SNL work has been the two ultrasincere, behind-the-scenes videos they've done about Mooney's (fake) romantic relationship with Leslie Jones. (Mooney actually has a girlfriend, but he doesn't talk about her in interviews.) Mooney got the idea after doing a sketch with Jones where the gag was she keeps unintentionally blocking him from view — both because he's physically smaller and because he has an eighth of her confidence. "She just always makes me laugh and I thought we were a funny pair," he says.
The first video hangs on the notion that Mooney was a virgin before Jones came along. ("I love fucking. I'm one of those guys, I'm always down to do it," Mooney tells me, which does not help his case.) By the time the second video comes around, they're having major marital issues, with Jones's career taking off while Mooney stays home to raise their son, Lil' Lorne — all of which culminates in Mooney shooting "Weekend Update" anchor Colin Jost in the leg for flirting with Jones too much. (They were so committed to the bit that Jost showed up for the good-byes in a leg cast, for the benefit of eagle-eyed viewers.)
There is a joke, though, when Jones points out that Mooney was barely on SNL this season, that does have the ring of truth. The show's role in the current political climate just doesn't leave a lot of room for his specific, often uncomfortable brand of humor. "I'm not trying to be super weird," says Mooney. "We're not making a concerted effort to, like, not have my stuff seen."
"That's been a thing we've battled a little bit at SNL," says McCary. "Being able to hit a universal note is something that we're definitely not great at."
"It's a little frustrating," adds Bennett, who's on the show plenty but misses doing shorts with his buddies. "At the same time, we realize the situation that the country's in, that the show is in. And that will change as the climate changes."
As it is, change is already afoot. Bobby Moynihan, Vanessa Bayer, and Sasheer Zamata all left the cast in the off-season. "It's sad our friends are leaving," says Mooney, "but there's also a sense of pride and happiness that they get to do their own things. The tough thing about being at that show is that that show is your life, so you can't do a ton of outside things." It's remarkable that Mooney has managed to write and star in his own movie while still employed at SNL. He insists the only reason Brigsby exists is because he had his co-screenwriter Costello working through script issues while he was absorbed with the show.
When I ask him if he's thought about how long he'll stay on SNL, he says he's not thinking further ahead than Brigsby's opening day, and the trip to Newport, Rhode Island, he's taking afterwards — though as a SoCal native, he's just not sure about New England. Like, the whole thing. "I'm going to sound like a hater right now," he says, "and I apologize, but I don't know that I trust these East Coast beaches yet."
We've reached our final destination in the Science Museum: the Giant Heart. It echoes with a cathunk-cathunk beating sound and features claustrophobia-inducing "vessels" you're not quite sure a human body can fit through, kind of like streets in Italy. Ahead of us, two teenage boys are having a loud argument about which way to turn. "A little drama inside the Giant Heart," Mooney remarks. "Not a lot of heart in this heart."
Our walk back to the hotel takes us past dinosaur skeletons at Philly's Natural History Museum. Jurassic Park made Mooney a Velociraptor fan, but he knows more about the saber-tooth cats ("that's the correct term, not saber-tooth tigers") and dire wolves, because he loves going to L.A.'s La Brea Tar Pits.
Wait, dire wolves? Is he freaking out about the new season?
Mooney looks confused. New season of what? It takes us a minute to figure out that he's never seen Game of Thrones. Everything he know about dire wolves comes from frequent visits to the Tar Pits' George C. Paige Museum. "I make strange choices," he says. "I somewhat ironically started watching the pilot episode of Entourage again, and now I've rewatched three seasons of that."
It's been such a trippy day, the conversation naturally turns to drugs. Well, I want to talk about them. Despite his just-left-my-parents'-basement appearance, and making a movie that would be killer to watch stoned — I mean, there's teleportation and cardboard weapons and a evil lord named "Sun Snatcher" — Mooney doesn't partake. The popular Good Neighbor video, "420 Disaster," in which Mooney plays a guy at an outdoor concert who awkwardly avoids taking a drag off every joint he's offered, is super accurate. "That video is from me truly riffing on trying to talk about strands of weed with my friends who know all the info," he says.
Although, he says after a long pause, if there were a pill that could induce time reversal, he'd take it in a second. "I definitely think about, Is there a drug that could make this whole day come to life in the way I would've experienced when I was 7 years old? That's what I'm still chasing."