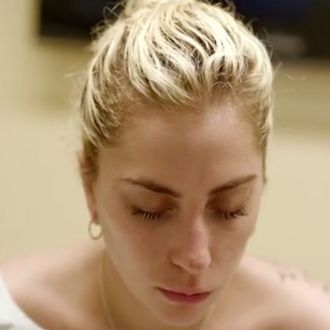 Gaga, in one of the film's many emotional scenes.
Photo: Netflix/Instagram/ladygaga
If the latest incarnation of Lady Gaga's public persona has been geared toward getting personal, she's about to pull fans in even closer. Gaga has announced a documentary called Five Foot Two, chronicling a year in her life, will premiere at the Toronto Film Festival next month, where she'll also perform, followed by a worldwide release on Netflix on September 22. Directed by Chris Moukarbel (Banksy Does New York, Me @ The Zoo), the film follows Gaga through the moments leading up to her Super Bowl performance, but judging from the teasers Gaga has shared so far, what happens onstage will have only a small role in the film.
Other scenes involve Gaga at a doctor's office seeking treatment for her chronic pain, and addressing her feud with Madonna ("I still admire her no matter what she might think of me") in a clip that fades out before Gaga reveals what bothers her about the singer, suggesting Five Foot Two might show Gaga at her most unfiltered and outspoken yet.