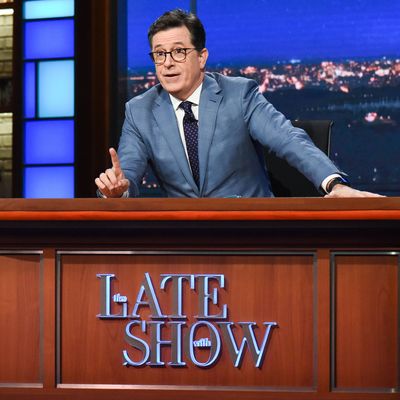 Stephen Colbert's
Late Show
is off the air until after Labor Day.
Photo: Scott Kowalchyk/CBS via Getty Images
Bad news for the two-thirds of the country hungry for comic relief from the chaos of the Trump administration: Stephen Colbert is on vacation — and so are most of his late-night buddies. The comic's No. 1–rated CBS Late Show, which has become an unapologetic (some might say indispensable) source of anti-POTUS humor since January 20, will be in reruns until after Labor Day. Ditto all the other broadcast network late-night shows, including NBC's Late Night With Seth Meyers and ABC's Jimmy Kimmel Live, which are also scheduled to be dark until September 5. On cable, HBO's John Oliver on Sunday told viewers he'll be away until September 11, Samantha Bee's TBS half-hour Full Frontal next new episode is on September 13, and Comedy Central's The Jim Jefferies Show is on a break until September 19. Even Chelsea Handler's Netflix series is taking off the rest of August. But while late-night's outrage machine is mostly grinding to a halt, there are a couple of exceptions to the end-of-August comedy siesta.
HBO's Real Time With Bill Maher, which took off most of July, will have a new episode this Friday (though it will skip doing a Labor Day weekend show.) There's one more episode of NBC's special summer edition of Weekend Update this Thursday, while The President Show airs its last Comedy Central episode of the summer next week (it's back on September 28). Finally, and perhaps most notably, Comedy Central's The Daily Show With Trevor Noah is looking pretty smart for (unintentionally) taking a two-week summer break at the same time as the president's own "working" vacation. Sure, this meant TDS missed the chance to react to the North Korea and Nazi episodes of the Trump Show these past two weeks. The upside? TDS will be the only nightly TV comedy series in production as POTUS returns to the White House this week.
The move probably won't make that much of a difference in ratings for TDS, at least not initially: It doesn't air at the same time as its rivals and has its own younger-skewing audience. But the dearth of original anti-Trump comedy coming from the rest of late night increases the odds of a TDS segment or video breaking through over the next few weeks. That, in turn, should only help Noah's already-rising ratings, building on a Trump bump that has seen TDS grow its audience by 15 percent this season.
As for the other late-night shows, taking off back-to-back weeks during the summer is a long-standing tradition. It provides some necessary down time for the hosts, and perhaps more importantly, their writing and production staffs. In past years, viewers probably didn't even notice their absence, particularly since the news out of Washington tended to slow to a trickle during the so-called "dog days" of August. With Trump in the White House, of course, there are rarely slow news days anymore. And so just as Noah and The Daily Show missed some great chances for comedy during Trump's official vacation, the next two weeks will very likely produce new events rife for riffing on, particularly by Colbert and Meyers. The good news: Both men have very active Twitter accounts.