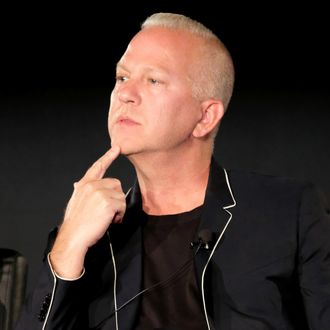 Photo: Frederick M. Brown/Getty Images
Despite being the first and as-yet only season without a supernatural element, every new detail revealed about American Horror Story: Cult paints a more excitingly bizarre picture, a horrible picture mostly made up of clowns and bees. After an FX screening of the season's first three episodes, Ryan Murphy shared a few more specifics to wet your whistle … with blood, and also more bees. While, as it's been reported, the season kicks off with last year's presidential election, the show is not about the president or the former secretary of State. "It's not about Trump," said Murphy. "It's not about Clinton." Instead the cult of personality that has Americans smearing on greasepaint is Kai Anderson, a cult leader played by Evan Peters. Because this is American Horror Story, Peters will also play Charles Manson, Jim Jones, David Koresh, and, of course, Andy Warhol.
The inclusion of the pop-art legend amidst a gaggle of cult leaders also explains the casting rumors swirling around Lena Dunham's presence on the show. Murphy confirms the Girls star will play Valerie Solanas, author of the infamous SCUM Manifesto and Warhol's would-be assassin, in the season's seventh episode. Solanas shot the Factory artist as well as art critic Mario Amaya in June 1968; both survived. "Lena Dunham is playing Valerie Solanas, who attempted to shoot Andy Warhol, because she felt denied the cult of personality that was Warhol and the Factory at the time," Murphy explained. "Okay, but what about all the GD bees?" you might thinking. Well, excellent news: They are definitely in the show. "Bees are the original cult," Murphy remarked. In fact, Billy Eichner's character is a suburban beekeeper. There's no indication that he'll be able to command his hive to sting a bunch of horrible cult clowns. On the other hand, and this can't be stressed enough, this is American Horror Story we're talking about.