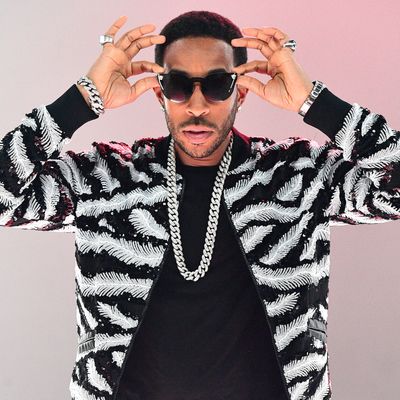 Ludacris.
Photo: Prince Williams/Getty Images
Some songs are born as protest songs; others become so much, much later. "Move Bitch," the tenth track off of Ludacris's sophomore album, Word of Mouf, falls squarely in the latter category. The single, which peaked at No. 10 on the Hot 100 way back in 2002, gained an unexpected second wind over the weekend in Atlanta, when it was deployed by anti-Trump protesters in Luda's home city. A video tweeted by HipHopDX, currently at over 28,000 retweets with over 57,000 likes, displays a street crammed with hundreds, if not thousands, of demonstrators delivering a stirring rendition of "Move" updated for the present. Though the song's familiar blunt, martial beat remained intact, their version of the catchy chorus had replaced the original titular epithet with the president's name.
Pop lyricism and political sloganeering have a great deal in common: In each case, in order to move large masses of people, a message needs to be delivered as forcefully, rapidly, and memorably as possible. To be sure, the semantics of "Move Bitch" hardly tilt in any definite political direction. Luda, in his first verse, threatens to run people over if they refuse to clear a path for him, something with uneasy resonance given the fascist murder-by-car in Charlottesville the weekend before last. Mystikal's guest verse (the first few bars of which are heard in the video) features a complaint about paying child support typical of so-called men's-rights activism. And of course, the original chorus of "Move Bitch" is as succinct a statement of misogyny as has ever been formulated: It would have made a fitting accompaniment to Trump's own anti–Hillary Clinton campaign last year.
Theoretically, the song could be used by the right at least as much as by the anti-Trump center and left, and yet it isn't. As anyone who's read right-wing media (the most prominent of which, Fox News, Luda's had his fights with) can attest, social conservatives have issues with black language and identity so huge that they eclipse any possibility of using the regressive and/or aggressive messages found in certain spheres of rap music for their own advantage. So the treasure trove of songs designed by black pop stars to get people moving is available only to one side of the political divide defined by Trump's presidency. While seems unlikely that "Splash Waterfalls" will find a way to be grafted to anti-far-right politics in 2017, "Stand Up" still possesses tremendous potential.