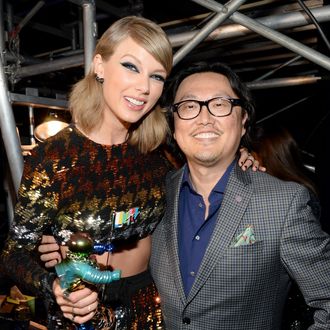 Swift with director Joseph Kahn.
Photo: Kevin Mazur/MTV1415/WireImage
Though Taylor Swift's latest music video might be breaking streaming records left and right, reactions to "Look What You Made Me Do" haven't exactly been glowing. The video's director, however, believes the backlash to the video comes down to a deep-seated gender bias. "If I plan something as a man I'm a 'genius,'" Joseph Kahn wrote on Twitter. "If Taylor as a woman plans something she is 'manipulative.' Double standards. This is wrong."
Kahn's comments are likely referring to criticism that the song is a petty rehashing of past beefs that either didn't go dark enough or could have been skipped all together. Kahn previously defended the video when it was accused of copying Beyoncé's "Formation" video as well. "I've worked with Beyoncé a few times. She's an amazing person. The #LWYMMD video is not in her art space. Love and respect to Bey," he tweeted.
Kahn previously worked with Swift on "Bad Blood," for which he won the Grammy award for Best Music Video.