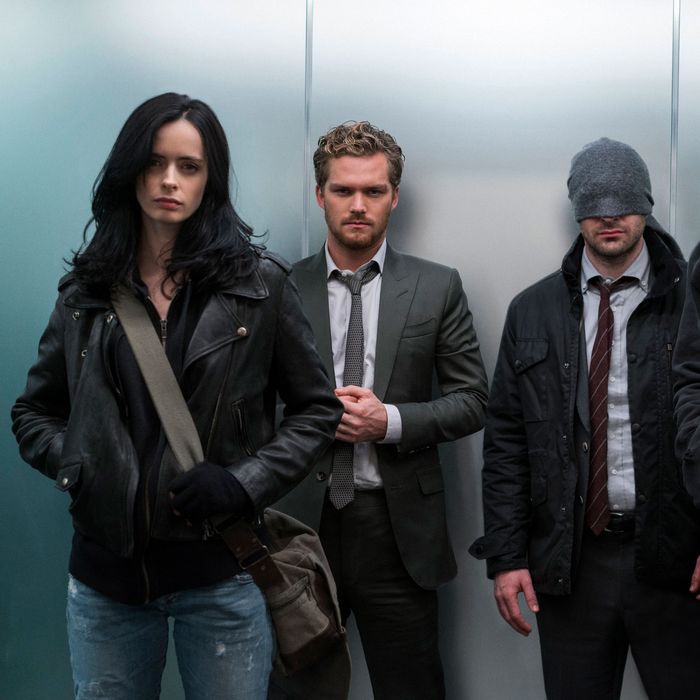 The Defenders, from left, Jessica Jones, Iron Fist, Daredevil, and Luke Cage.
Photo: Sarah Shatz/Netflix
Ever since Daredevil and Jessica Jones premiered in 2015, Marvel and Netflix have touted the day that all of their heroes would team up for what is essentially a TV version of The Avengers. Just as the Marvel Cinematic Universe united Iron Man and Captain America, The Defenders is the first all-star gathering of Daredevil, Jessica Jones, Luke Cage, and Iron Fist. The first season of The Defenders premieres on Friday, August 18, but if you haven't been watching all four shows — or you just forgot some of the details — Vulture is here to help guide the way.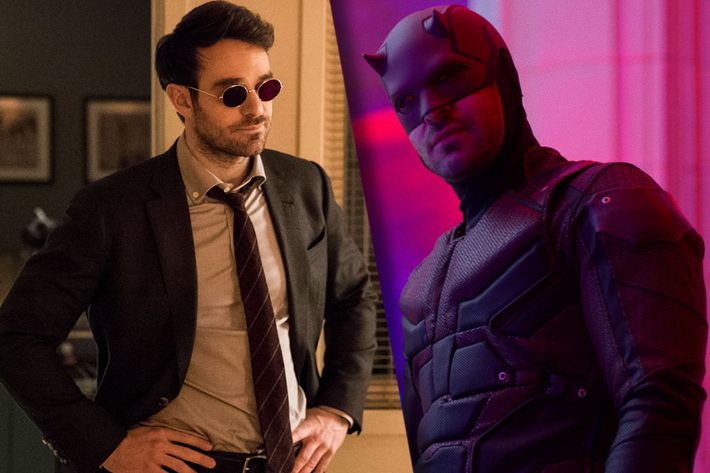 Daredevil, a.k.a. Matt Murdock
Marvel's first Netflix series is probably still the most popular, having developed a serious fan base over two seasons. As a result, Matt Murdock (Charlie Cox), is the de facto leader of the Defenders — the Tony Stark/Iron Man of the group, if you will. He's also the only Defender who has to struggle to maintain a secret identity as he keeps the legal part of his life and his superhero side separate. Blind attorney by day, ass-kicking vigilante at night, Daredevil battled two legendary Marvel characters in his show — the Kingpin and the Punisher — and the second season ended with a fight against a notoriously villainous group known as the Hand (more on them later). At the end of that second season, Matt decided he would rather be an attorney than Daredevil, but the return of the Hand will make that difficult for the Hell's Kitchen superhero. It's also interesting that several of Daredevil's compatriots return for The Defenders, including Elektra Natchios (Elodie Yung), Karen Page (Deborah Ann Woll), Foggy Nelson (Elden Henson), Claire Temple (Rosario Dawson), and Stick (Scott Glenn). Daredevil may not be the best Marvel series on Netflix, but it's the most essential leading up to The Defenders.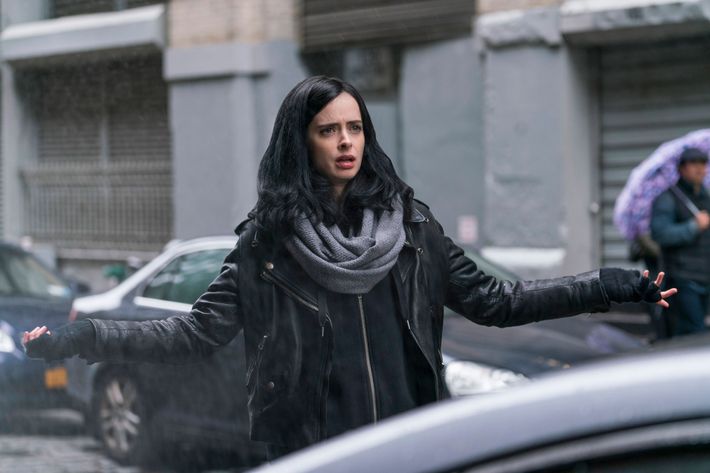 Jessica Jones
The Marvel Cinematic Universe's first leading female superhero finally makes her big return. Jessica Jones (Krysten Ritter) is the wisecracking member of the Defenders, the one just as likely to insult the enemy as kick his ass. She has super strength, but she's also the detective of the quartet, the one who knows how to track down a lead before she starts busting heads. At the end of her first season, Jones got vengeance on the evil Kilgrave — who previously controlled her mind and subjected her to psychosexual torture — and was arrested for his murder, but she was soon released and celebrated as a hero. Having no secret identity, her inability to hide behind a mask has made her famous, but she's not exactly eager to be the new Captain America. At the start of The Defenders, she's drinking herself to a stupor most nights and in no hurry to fight evil. Also, Jones has a tumultuous past with another Defender: Before she and Luke Cage had a one-night stand, Kilgrave forced Jones to kill Luke's wife.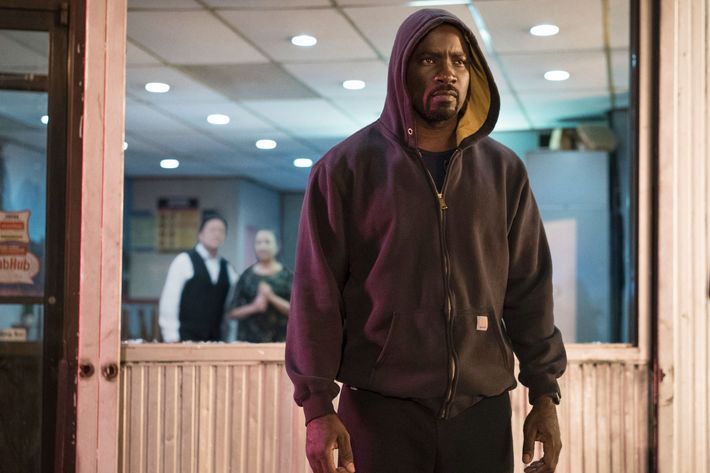 Luke Cage
The most outwardly heroic member of the Defenders, Luke Cage (Mike Colter) is a legend in Harlem, especially after facing off against local kingpins Cornell "Cottonmouth" Stokes (Mahershala Ali) and Mariah Dillard (Alfre Woodard) in his show's first season. Luke has super strength like Jessica Jones, but he's also invulnerable to almost all attacks, and he embraces his role as a protector of the downtrodden far more than Daredevil or Jones. Of course, doing so has given him a very public profile. At the end of the first season, Cage was arrested and sent back to Seagate Prison — where he was previously incarcerated for a crime he didn't commit, then experimented upon — and he's still inside Seagate at the opening of The Defenders. That doesn't last long, of course: Cage's desire to protect his community helps lead to the formation of the supergroup.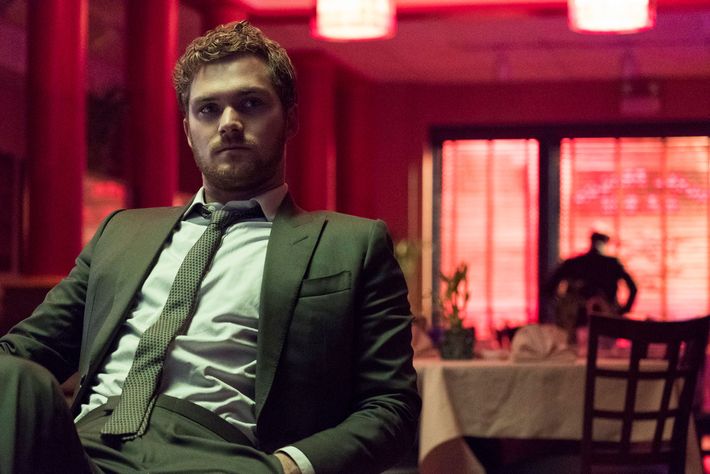 Iron Fist, a.k.a. Danny Rand
The least popular Defender debuted earlier this year in the form of Danny Rand (Finn Jones), a spoiled rich kid who was stranded in remote Tibet after a plane crash killed his parents. He was rescued by monks who raised him in the mystical city of K'un-Lun, where became a legendary martial-arts expert known as Iron Fist. Danny is the pretty boy of the Defenders, the one who lacks the grit of Luke Cage or Jessica Jones, but still has the desire to do what's right. Crucially, he's also got the most history with the Hand. At the end of his season, Danny and his partner Colleen Wing reached the gates of K'un-Lun, only to discover a pile of dead Hand assassins and the city apparently destroyed. The mystery about what happened to K'un-Lun segues directly into the very first scene of The Defenders, as Danny and Colleen's investigation will lead them to New York.
The Hand
The Hand is an ancient organization that has controlled the world for as long as anyone can remember. Think of them as a more violent version of the Illuminati conspiracy theory: a nefarious group of immortal puppet masters who pull the strings on everything.
Alexandra Reid
The Big Bad of The Defenders is a mysterious woman named Alexandra Reid, played with icy aplomb by Sigourney Weaver. Reid's exact role in The Defenders is a mystery for now, but what you should know — and what the show reveals almost immediately — is that she plays a leading part in the Hand's return, which makes sense given how prominent the group was in Daredevil and Iron Fist.
Elektra Natchios
At the end of Daredevil's second season, Elektra sacrificed herself to save Matt Murdock in his battle against the Hand. But after the Hand exhumed her body and revived her as a superhuman killing machine named "Black Sky," Elektra has fallen totally under control of the bad guys — and she doesn't remember anything about her past life.
Claire Temple
First introduced in Daredevil, the savvy nurse played by Rosario Dawson has been the connective tissue between all of Marvel's Netflix shows, appearing in every single one. She's worked with each hero in different ways — sometimes using her medical skills to stitch them up after battle — and she's romantically tied to Luke Cage at the beginning of The Defenders.
Stick
Scott Glenn returns in the role of blind sensei who trained Matt Murdock and has waged war against the Hand for decades. Think of him as the Professor X of the group, although a bit rougher around the edges.
Jeri Hogarth
Carrie-Anne Moss plays this high-powered lawyer who's got significant history with Jones and Rand. She's something of a legal protector for these heroes, helping out by pulling strings whenever they need to be pulled.
Detective Misty Knight
Simone Missick returns as the NYPD detective who worked with Luke Cage in his first season. With two other possible love interests in Cage's world — Jones and Temple — it feels like Misty will be more of a conduit to police activity in Harlem in The Defenders.
Foggy Nelson and Karen Page
Elden Henson and Deborah Ann Woll are also back as Matt Murdock's main allies in The Defenders. If you haven't watched Daredevil, here's the gist of it: Matt's friendship with Foggy hit a rocky patch over his desire to be Daredevil, so Foggy left their blue-collar law practice to work for Jeri Hogarth's corporate firm, and Matt revealed his secret identity to Karen at the very end of the last season. In other words, both relationships need some serious reconciliation.
Colleen Wing
Jessica Henwick returns as martial-arts expert Colleen Wing, a former member of the Hand who turned against the evil group to fight alongside Danny. After she and Danny learn that K'un-Lun was attacked, they start an globe-hopping investigation to figure out what happened.
Trish Walker and Malcolm Ducasse
Rachael Taylor pops up early in The Defenders, reprising her role as Jessica's best friend and New York's favorite talk-radio host. Meanwhile, Eka Darville returns as Jessica's neighbor and assistant, who convinces her to investigate the missing-person case that sparks the first arc of the series.
The Punisher, a.k.a. Frank Castle
Jon Bernthal will reportedly return as the Punisher, but how that'll happen is still unclear.