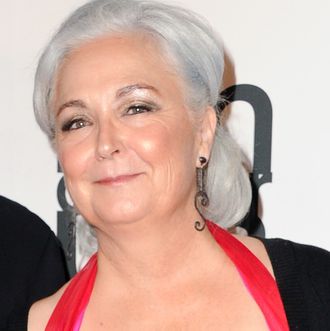 Mimi Pond.
Photo: Allen Berezovsky/WireImage
Cartoonist Mimi Pond wrote The Simpsons' pilot episode, but was never offered a position as a staff writer. Pond and her husband happened to meet Matt Groening when he was working on his syndicated comic "Life in Hell." When The Simpsons came along, Groening invited Pond to write something. "He was asking his cartoonist friends if they wanted to write episodes, and apparently I was the only one who said yes," Pond told Jezebel. "When I wrote an episode, I wrote it and it just happened to air as the first one because they were behind schedule." That episode, "Simpsons Roasting on an Open Fire," aired in December 1989. But Pond said she was never asked to be on staff, because showrunner Sam Simon preferred that the writers room was all male. Per Jezebel:
I was never invited to be on staff, and I never knew why for the longest time. No one ever called me or explained to me or apologized or anything. And it wasn't until years later that I found out that Sam Simon, who was the showrunner, didn't want any women around because he was going through a divorce. It had remained a boys' club for a good long time. I feel like I was just as qualified as anyone else who came along and got hired on the show, and it was just because I was a woman that I was, you know, not allowed entry into that club. I always wind up being the turd in the punchbowl because the show is so beloved and everything, and I'm sorry to burst bubbles but [laughs]. It wasn't a pleasant experience for me.
While this isn't the first time Pond has alluded to the boys' club that was the Simpsons writers room, it is the most plainly she's spoken of the incident. The Simpsons declined to comment to Vulture for this story.