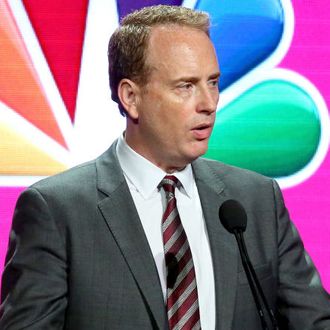 Bob Greenblatt at the 2017 TCA summer press tour.
Photo: Frederick M. Brown/Getty Images
It seems that bringing Will & Grace back is encouraging NBC Entertainment chairman Bob Greenblatt to dream big. As part of NBC's participation in the Television Critics Association summer press tour, the network boss sat down with Deadline this past Friday for an interview, and relayed his hope that more high-profile revivals of relatively recent hits can soon come to fruition. But as he ran down the list of series he'd like to see revived, Greenblatt alluded to a series of unfortunate conversations with high-profile writers who have repeatedly tried to shut his pitch down.
Here's Greenblatt on talking with Greg Daniels about reviving The Office:
I've talked to Greg four times over the past few years. It's always, "Maybe some day, but not now." There is certainly an open invitation but we don't have anything happening right now. If he wants to do it, I would do it.
And here he is on chatting about 30 Rock with Tina Fey:
I'd say to Tina, "Hey, you think some more 30 Rock makes any sense?" She'd say, "I don't know, maybe."
And finally, here he is on trying to pitch Aaron Sorkin — who appears to have a bit less patience than others:
I keep saying to him, "Do you want to do The West Wing again, wouldn't it be great to do it?" He says, "You know I love that show and some day I'd love to revisit it, but it's not going to happen right now."
It's clear that Greenblatt and the folks at NBC are pretty jazzed about Will & Grace and the current revival craze. But c'mon guys — let's learn to take a hint.