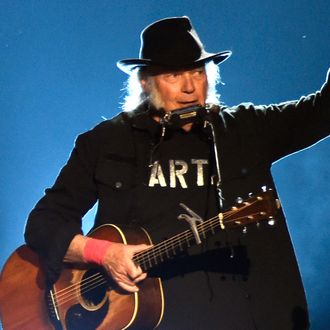 Neil Young.
Photo: Frazer Harrison/Getty Images
Neil Young has an incredible catalogue to his name with over three dozens albums spanning the last five decades — and that's just the music he's released. Now, the prolific singer-songwriter wants to make those hours (and hours, and hours) of listening available to you through the internet with an online archive. "I must admit I built this for myself as much as for everyone else," Young wrote in a note on the unfinished site. "I am very interested in collecting and organization, as well as mechanical things and old school record keeping."
The archive, when completed, will feature a full timeline of Young's released work, from the first single he recorded in Canada in 1963 through to albums and compilations yet to come. With each entry, Young has also included the recording-session or live-performance date, and a "filing cabinet" with related album artwork, credits, video, and other details.
This massive undertaking will utilize Young's streaming service Xstream. In addition to sharing the same name as a similar service in Empire, Xstream allows listeners to hear tunes off the internet with an alleged better quality. According to Young, "Xstream Music adapts seamlessly, using all available data, always delivering the best quality possible, directly from the original high resolution masters."
When the archive will be open and rockin' in the free world is unclear, though Young writes that "many people over a long period of time" have been working on it.