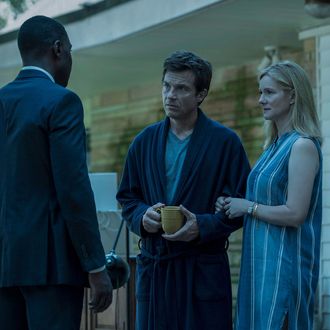 Jason Bateman and Laura Linney.
Photo: Jackson Davis/Netflix
Ozark, a crime drama that somehow always has a dark-blue tint in its lenses, has been renewed for a second season on Netflix. The series stars a very serious Jason Bateman as a Chicago financier with a hidden penchant for laundering money to Mexican drug lords, who must suddenly relocate his family — which includes Laura Linney as his eternally sad wife! — to the snoozy Missouri Ozarks when one of his schemes goes wrong. (We like to think it's a hybrid between Bloodline and Breaking Bad. Take that as you will.) Ten more episodes will be made for its sophomore outing. The Missouri tourism industry and your parents must be thrilled!