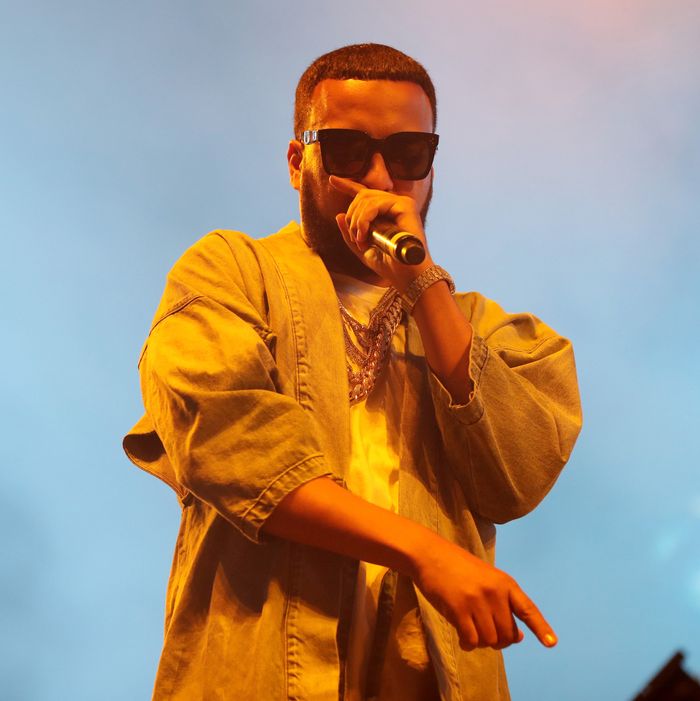 French Montana.
Photo: Christopher Polk/Getty Images for Coachella
It's sometimes hard to tell if die-hard New York rap fans enjoy listening to hip-hop more than they enjoy arguing about it. Since the decline of East Coast rap from the national preeminence it commanded in the '80s, '90s and early '00s, an endless debate has been spun out between classicists defending the honor of a bygone era and fans of newer artists — southern or local, but deeply influenced by the South — that the loyalists derided as simplistic and undignified. As with any quarrel, each contestant sees their opponent's flaws too clearly to ever focus on their own. The classicists, with the local-radio hosts serving as high priests, really are kind of stiff and old and dull, but they're not completely wrong to view acolytes of the new guard as frivolous and gullible and green either. The strife never really dies down: at any point it can start afresh, its ashes set newly alight by this or that stray comment in an interview or radio broadcast.
The reasonable notion that the old music was truly great and that a lot of the new music is great as well never really gains currency, despite it being the truth. And in a culture and time when attention centers on provocation and outrage, what gets overlooked, all too often, is the current music of New York itself.
New York City rap is obviously not what it was in the days when Biggie, Mobb Deep, Wu-Tang, Nas, and Jay-Z were at their peak, but that doesn't mean it's suffering either. New York is fine, and explaining how it's fine will go some way in explaining how it can become great again.
The leading sign that the city's stature has changed is the state of the album. New York doesn't churn out classic LPs at anywhere near the pace it did: Jay's recent 4:44 is the exception that highlights the rule. Mixtapes, though never known for perfection, have hardly fared better: it's been six years since the last definitive tape, A$AP Rocky's Live. Love. A$AP. But monster singles? New York still has those in abundance. Bobby Shmurda's "Hot Nigga" in 2014 and 2015, Desiigner's "Panda" and Young M.A.'s "OOOUUU" in 2016, Cardi B's incendiary "Bodak Yellow" (which has shot up into the Billboard top 15 within a scant few weeks). And then there's French Montana, the former mixtape legend who's carved out a lane for himself as a host for songs of the summer: last year's "Lockjaw" has been succeeded this summer by "Unforgettable," currently hanging at third on the Hot 100. Much like "Lockjaw," "Unforgettable" is an ideal summer song, a loose but precise composition that balances deftly between "hot" and "cool" tones: French's more reserved verse makes an ideal complement for Swae Lee's impassioned yet still poised verse and chorus.
It's easy to argue that the strength of these singles speaks to the subordination of New York to the South. "Panda" was a pitch-perfect knockoff of Atlanta's Future; "Bodak Yellow" is an open homage to South Florida's Kodak Black; Kodak was the featured artist on "Lockjaw"; Swae Lee, the writer of "Unforgettable" as well as a featured artist, hails from Mississippi and now Atlanta; if Shmurda and Young M.A.'s flows and sounds are less nakedly indebted to the South, it's still clear that they owe at least as much to trap music as they do to the New York school of versecraft originated by Rakim. But take a closer look: Even if these singles are inflected by the South sonically, their commercial success is very much a product of New York, a city whose enormous concentration of people and media offers a correspondingly huge advantage to hometown artists. The idea of New York kowtowing to the South is an illusion generated by inhabitants of a city cursed with the sort of megalomania believing that either New York is on top of the world or it's nothing. In fact, the current relation between New York and the South is something of a partnership: The raw product gets shipped north to be processed by local importers and sold to a local audience. The abundance of radio stations, magazines, and other media outlets in New York ensures that any song by a local artist that has the potential to take off will definitely take off. The South offers material and innovation, the North markets and infrastructure: It's an exchange where everyone wins.
New York will always be too big to be run by anything except New York. You could even argue that New York is underestimated currently in terms of influence: some of the city's most prominent artists, like Harlem's A$AP Rocky and Queens' Nicki Minaj, are typically overlooked in the local discourse because of their willingness to adopt sounds that don't fit the stereotypical image of "New York rap." The city is loaded with enough institutions, money, and connections to guarantee that, should it take the lead in innovation once again, everyone will hear about it; even if it doesn't, it's sitting comfortably enough anyway. New York rap's most representative figure is probably French Montana himself: Always in demand, coasting on connections (to Diddy, to Rick Ross, to Max B), exuding an easy charisma, neither traditional nor avant-garde, French embodies the spirit of a city whose sound will always be too big to fail. Given all this, it's tempting to wish that everyone could finally stop arguing and just relax about the state of New York rap — but then again, nothing could be less true to the city's essence than relaxation.