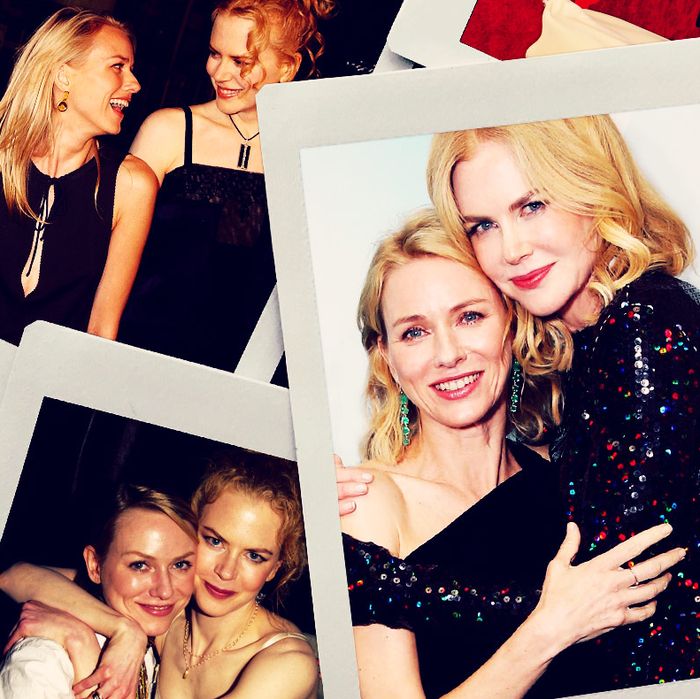 Photo-Illustration: Vulture
We're not going to sugarcoat this, dear readers: If 2017 were a contest, Nicole Kidman would come out on top against Naomi Watts. Despite both of the Aussie darlings having a jam-packed slate of work rolling out over the past year, Kidman has proven to be the most fortuitous with her choices, from starring in some of the year's most acclaimed dramas — Big Little Lies and The Beguiled — to the upcoming return of Top of the Lake. While Watts has been a delight to watch on Twin Peaks, The Book of Henry and Gypsy were two of the year's biggest flops. But who cares! Because these ladies have now been best friends for over a quarter-century, and that's an accomplishment in and of itself. To celebrate their friendship, we've tracked the highlights of this Hollywood power duo, right from day one.
Early 1991: The two get acquainted on the set of Flirting — an Australian coming-of-age dramedy — although they both attended the same high school and theater company in Australia. "We already knew each other but that's when our friendship forged," Watts explained in a recent interview.
November 2001: Kidman presents Watts with a Movieline award for her breakthrough performance in David Lynch's Mulholland Drive. "She came to my premieres or she'd come to Tom [Cruise]'s premieres and supported me," Kidman said behind the scenes. "Finally to be able to give back to her on the same level is really lovely." "I was inspired by Nicole," Watts responded. "The fact that we've come from the same place gave me hope for myself."
October 2002: Watts brings Kidman as her date to the premiere of The Ring, in addition to her then-boyfriend at the time, Heath Ledger. The trio loved holding hands!
July 2005: Kidman famously demurs about her personal life in interviews, but not when it comes to Watts. "Naomi and I are very, very good friends and have maintained that through so many things," she said in a Telegraph chat. "I think that's really rare, particularly for actresses, and I take a lot of pride in that."
February 2007: The duo are each others dates to the Oscars, where they also served as presenters. More hand-holding!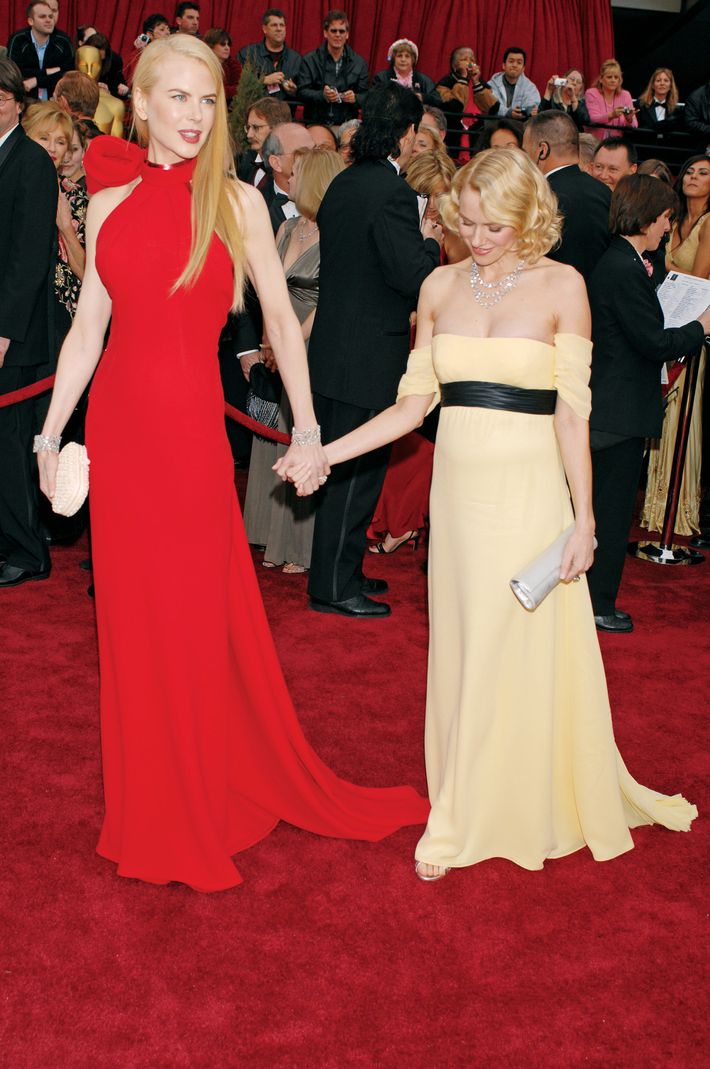 December 2007: Kidman rattles off a bunch of lovely adjectives to describe the "tenacious and determined" Watts while appearing on The Early Show. She also divulges that Watts used to date her sister's ex-boyfriend. Small world!
February 2013: In a candid interview with CBS Sunday Morning, Watts reveals that if it wasn't for Kidman's support, she would've abandoned her then-failing film career to return to Australia in the late '90s. "She kept saying, 'It's just going to take one thing, one thing, Nay, and you know, if you're in a hit film … then everything changes,'" Watts explained. Soon enough, she was offered the lead in Mulholland Drive.
January 2015: Watts surprises Kidman while she is hosting the annual G'Day USA Gala, presenting her with a flute of champagne on stage. Later that month, they share that they've been "looking for a long time" for a film to star in together, but it's proved to be difficult with their "picky taste."
June 2015: Kidman is awarded the Excellence in Film honors at the Women in Film Crystal + Lucy Awards, which is presented to her by Watts. After Kidman notes in her acceptance speech that she rejected an early role after refusing to "wear a shower cap and kiss a girl," Watts comes onstage and the two smooch a few times while wearing shower caps.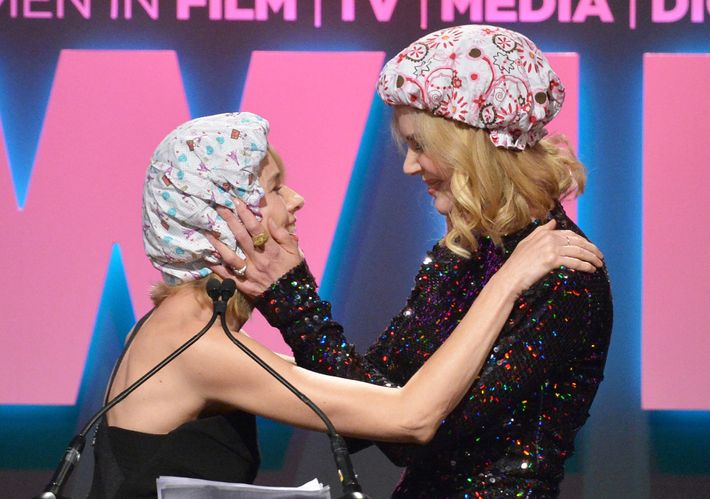 January 2016: Their friendship moves to Instagram. Watts and "Nic" show off their lip-lining skills with a #fbf gram.
September 2016: This time, it's a black-and-white reflective 'gram.
June 2016: Watts revisits those iconic shower-cap smooches by posting a birthday Instagram dedicated to Kidman.
June 2017: Watts elaborates in an interview on how the friendship shared between her and Kidman boils down to mutual respect. "We've gone through a lot together over a significant amount of time. That history binds you," she said. "We have a strong respect and love for one another."
June 2017: Another birthday Insta dedicated to "this beautiful woman!"
July 2017: Watts reveals that Kidman initially gauged her interest about starring in HBO's critically acclaimed miniseries Big Little Lies, but, as we now know, that never came to fruition. "We talked about doing that together," she said about Kidman. "I might have been in it." A few days later, Watts posted a cute Instagram of how her bestie means "everything" to her.
August 2017: Watts appears on The Tonight Show With Jimmy Fallon, where she teases the host about missing his infamous opportunity to date Kidman, and jokingly offers to turn back time to serve as his wingwoman so he could try again.
August 2017: Kidman tells Australian talk show Today that the duo officially celebrated their 25-year-friendship anniversary in grand fashion earlier in the summer. "We had a big party that night," Kidman said. "We were wild that night! We're proud of that. That's a really important thing to emphasize the friendships that have sustained decades and decades."