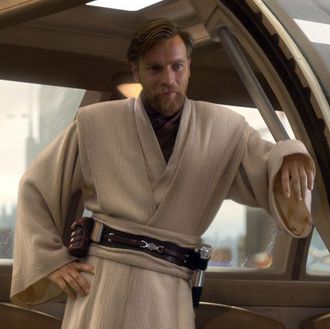 Ewan McGregor as Obi-Wan.
Photo: Lucasfilm
The bigwigs behind the ever-expanding Star Wars universe are lining up their next project. According to The Hollywood Reporter, the next saga spinoff will be a solo story for your original Jedi father figure, Obi-Wan Kenobi. There is apparently no script yet, but Stephen Daldry is reportedly in very early talks to direct. Daldry is an Oscar nominee best known for highly emotional dramas like The Hours, The Reader, and Extremely Loud & Incredibly Close. Most recently he's directed episodes of The Crown and is attached to a screen adaptation of Wicked.
So taking all that into consideration, along with his debut feature Billy Elliot, maybe Disney is looking to truly switch up the tone of the Star Wars universe by making it a musical starring Claire Foy as a gender-flipped Obi-Wan. And if Daldry does sign on, what could be next? A soft-shoeing Boba Fett origin story from Damien Chazelle? A rumination on Yoda's contemplative Dagobah years by Tom Hooper? Nothing is yet confirmed for the Obi-Wan movie — including whether or not Ewan McGregor will reprise his role (he's previously said he's down) — besides the fact that it will be about Obi-Wan, so all we have is our speculation, and our desire to see Claire Foy go from Queen to Jedi.