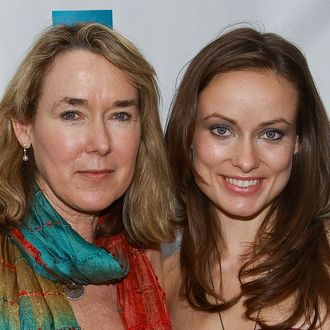 Leslie Cockburn, left, with daughter Olivia Wilde.
Photo: Mike Coppola/FilmMagic
In the fallout from Friday's white-nationalist rally in Charlottesville, Virginia, President Trump refused to condemn racism and neo-Nazi demonstrations directly and instead made a disingenuous call for "unity." On Saturday afternoon, right around the time a person was pronounced dead at the scene after a car intentionally rammed through a crowd of counterprotesters, actress Olivia Wilde took to Instagram on behalf of a politician unafraid to call out bigotry for what it is: Leslie Cockburn, the 2018 congressional candidate hoping to unseat the incumbent Republican in Virginia's fifth district — and Wilde's mother. Amid the chaos, Wilde shared her mother's statement written in response to the hatred on display in her state. Cockburn notably provided the kind of strong, pointed language that President Trump shied away from, going so far as to advocate for the counterprotesters and their efforts. In other words, there were no "many sides" verbal gymnastics here.
Wilde is currently starring in 1984 on Broadway, the stage adaptation of George Orwell's novel that has been deliberately designed to reflect unsettling political shifts currently happening around the world.