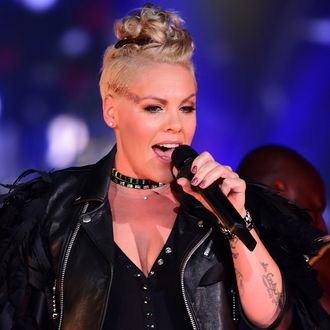 Watch out, Katy Perry.
Photo: C Flanigan/Getty Images
Five years between albums is eons in the pop sphere, but Pink sets her watch to her own time. In just two months she'll release Beautiful Trauma, her first album since 2012's The Truth About Love (the one responsible for getting "Just Give Me a Reason" stuck in your head). Much has changed since then: We are a country with a president threatening nuclear war and issuing Twitter orders that aim to further strip the rights of the already marginalized. All this political apathy now has Pink posing the question on most people's minds, on the title of her album's first single: "What about us?"
It's a surprisingly upbeat track for capturing such a desperate mood, but then, Pink has spent the better part of her career churning out songs designed to empower regardless of the circumstances. "It's the start of us waking up, come on / Are you ready? I'll be ready / I don't want control, I want to let go / Are you ready? I'll be ready / And now it's time to let them know," she sings, once again leading the charge. We suggest Katy Perry, modern-day queen of anthems, secure her crown a little tighter in the coming weeks. Beautiful Trauma is out October 13.