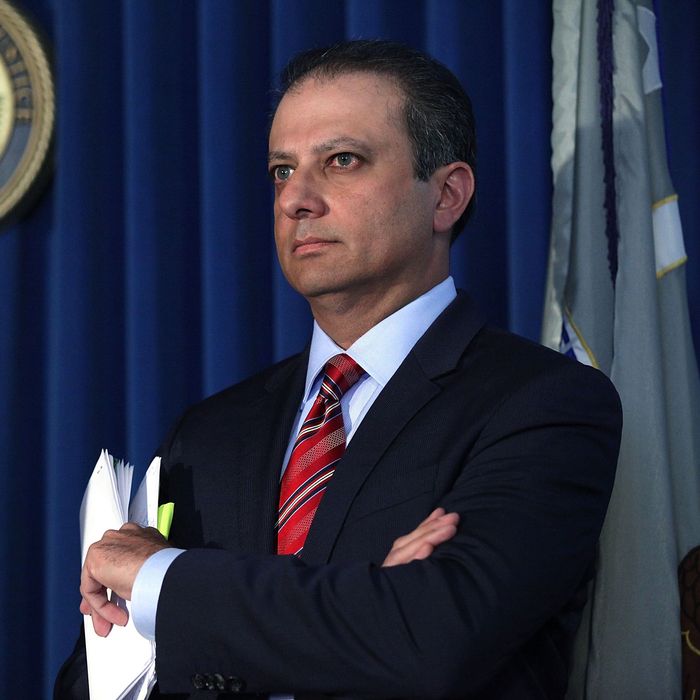 Preet Bharara.
Photo: Spencer Platt/Getty Images
It really does seem like everybody has a podcast these days: your co-worker, your mom, your bartender, your ex, your friend on Twitter. And now you can also add to that list your former United States Attorney for the Southern District of New York, Preet Bharara, who was recently fired by President Trump and who's probably more famous than your friend on Twitter.
Today saw the official announcement of Stay Tuned With Preet, an upcoming weekly podcast that will see the former prosecutor, famous for his work on corruption and financial malfeasance over the decades, focusing on "issues of justice and fairness" and providing "commentary on our judicial, political and cultural systems." As is customary for podcasts hosted by such powerful individuals, the show will also feature similarly powerful guests, though no specific lineup has been provided so far.
Stay Tuned will mark Bharara's first output since joining Some Spider Studios — a media company founded by his brother, the entrepreneur Vinit Bharara — last month as adviser, stakeholder, and content producer, not long after he was ousted from office. (Vinit Bharara, by the way, was a founder of Diapers.com, which sold to Amazon for $545 million in 2010, in case that's interesting to you.)
To distribute the podcast, the company has struck up a partnership with WNYC Studios, the on-demand audio arm of the podcast arm of the venerable public radio station that's home to beloved New York–grown hits like Radiolab, 2 Dope Queens, and Death, Sex, and Money. But WNYC Studios isn't actually responsible for producing the show. That duty will go to a second partner: Pineapple Street Media, the Brooklyn studio responsible for Missing Richard Simmons, the controversial breakout hit from earlier this year that they produced for First Look Media, and perhaps more notably, With Her, the official campaign podcast for Hillary Clinton's doomed 2016 presidential run. It's a curious arrangement, particularly when you consider that WNYC has every means and capacity available to handle the show by themselves. One wonders if the Clinton connection is meaningful here.
Bharara's podcast is the latest in what appears to be a growing trend of liberal-leaning politicians and political operatives taking up podcasting as a method of communication. Aside from Clinton, you've got Bernie Sanders with his own podcast operation (sort of), and you've also got the nascent left-wing podcast empire known as Crooked Media, whose flagship Pod Save America has consistently hovered around the top of the Apple Podcast charts and whose various machinations have seemingly energized a base of followers since the enterprise launched at the beginning of the year. A lot seems to be happening at this nexus of podcasts and liberal political media, perhaps a budding foil to the long-established right-wing talk-radio-industrial complex, which itself seems to be evolving in strange new digital directions.
Anyway, Stay Tuned With Preet Bharara will debut sometime in the fall, provided that Bharara actually figures out what a podcast is.